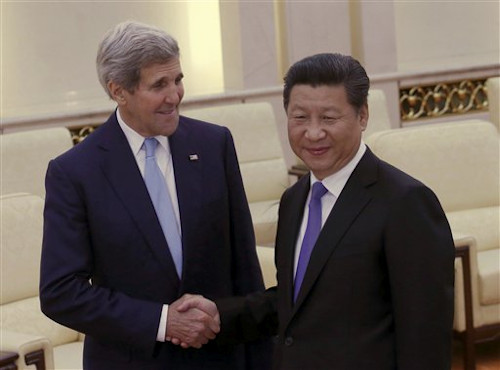 WASHINGTON (AP) — China's record on nuclear proliferation is facing congressional criticism as the Obama administration seeks renewal of a 30-year agreement that enables American involvement in China's fast-growing atomic energy industry.
It's a different beast and far less contentious than the new nuclear deal between Iran and the U.S. and five other world powers aimed at preventing Tehran from acquiring atomic weapons. China has had the bomb for 50 years and has a stockpile of perhaps 250 weapons.
This agreement facilitates the transfer of U.S. technology for civilian use, and blocking or delaying it could complicate already tense U.S.-China relations. In September, President Barack Obama will host Chinese leader Xi Jinping at the White House amid growing strains over Beijing's island-building in the South China Sea and alleged cybertheft of U.S. government and trade secrets.
There are also major commercial implications. The U.S. nuclear industry is warning it needs swift renewal of the agreement, which expires at the end of this year. Four American-designed reactors worth $8 billion are under construction in China, and dozens more are planned or proposed that industry advocates claim could support tens of thousands of U.S. jobs.
Chances are the agreement will be renewed. It has strong support from some lawmakers, mainly because of the economic benefits of nuclear trade with China, but has drawn stiff criticism from both Republicans and Democrats.
Republican Sen. Marco Rubio of Florida, a presidential hopeful, last week co-sponsored a resolution seeking to block it, saying Chinese entities have continued to transfer sensitive military technology to Iran and North Korea and assisted Pakistan's nuclear program.
"The stakes are too high for us to continue a business-as-usual approach to China by letting this agreement enter into force," Rubio said.
Sen. Ed Markey, a Democrat from Massachusetts, has also come out against it, demanding strong conditions to ensure China meets nonproliferation standards.
But the Obama administration is warning that ending U.S.-China cooperation would be devastating to the U.S. nuclear industry and would hurt bilateral relations and diminish American leverage. It says China's record on nonproliferation has improved. Beijing has signed international nuclear control accords and has ceased support to Pakistan and Iran's nuclear weapons programs since the 1990's.
Thomas Countryman, the top State Department official on nonproliferation, told a congressional hearing Thursday that failure to implement the agreement "would be taken by the Chinese as a step backward by the United States from our professed desire to be partners where we can and to manage our differences where we have them."
But he acknowledged China has yet to show "the necessary capability and will" to stop illicit transfers of sensitive technology, including to Iran's ballistic missile program by Chinese national Li Fangwei, also known as Karl Lee, who has a $5 million U.S. reward on his head.
"There is a demonstrated wanton disregard for export restrictions in China," Rep. Gerry Connolly, a Democrat from Virginia, told Thursday's hearing.
Asked for a response by The Associated Press, Chinese Embassy spokesman Zhu Haiquan said China strictly abides by its international obligations and will punish any violation of Chinese export control laws.
But perhaps most damaging is the accusation that China violated the existing agreement by adapting U.S.-designed coolant pumps for nuclear reactors for military purposes on its nuclear submarines. U.S. officials have declined to comment publicly on those allegations.
The U.S. has forged civilian nuclear pacts with two dozen countries — including its other main strategic rival, Russia. Nuclear cooperation with China also complements Washington's shared interest with Beijing in curbing greenhouse gas emissions amid the push for a global climate pact in Paris in December.
But experts have voiced concern over China's ability to oversee safety as it rapidly expands nuclear power generation. Twenty-seven nuclear plants are already operating, 24 are under construction and dozens more are planned.
And Henry Sokolski, executive director of the Nonproliferation Policy Education Center, is warning of a regional fissile material production race in East Asia.
China has yet to decide to reprocess spent nuclear fuel on a commercial scale, but the agreement opens the way for that. After settling with the U.S. over security arrangements and safeguards, China could extract nuclear weapons-usable plutonium from spent fuel generated in U.S.-designed reactors whenever it chooses.
Sokolski said China should be treated like Russia, which requires U.S. approval to reprocess on a case-by-case basis.
Giving the green light to China could encourage Japan, which has strained relations with Beijing, to go ahead as planned next year to open up a massive, costly reprocessing plant, he said. South Korea also wants the right to reprocess.