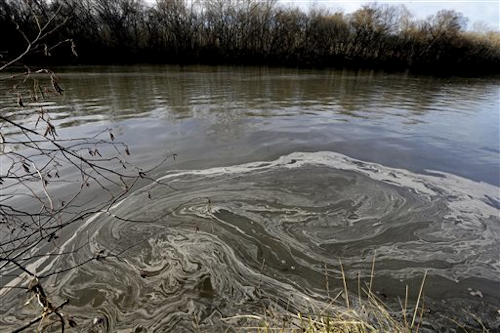 The toxic sludge created by a coal ash spill in the eastern U.S. may have settled to the river's floor — but the debate about how much the company responsible for the spill should now pay is just heating up.
On Feb. 2, 2014, employees of Duke Energy Eden noticed that coal ash waste was spilling from one of its coal ash ponds into the Dan River. It turned out that an old drainage pipe had collapsed and the third largest coal ash spill in U.S. history had begun.
The spill unleashed 39,000 tons of coal ash— a byproduct of ash burned for electricity — into the river making a dangerous swirl of arsenic, selenium, chromium and mercury (seen in this photo taken Feb. 5, 2014).
According to an Associated Press report, water samples collected from the river in the immediate aftermath showed high levels of arsenic, lead and aluminum. But the levels dropped within a few days as the ash settled into the riverbed.
Now, as scientists work to assess the long-term damage to the Dan River — which flows through North Carolina and Virginia — regulators are trying to determine how much to fine Duke Energy for the resources it took to clean up the polluted river.
One EPA spokesman estimated that Duke's cleanup costs totaled about $15 million.
After the worst coal ash spill in U.S. history, Tennessee Valley Authority was fined $11.5 million — though the cleanup cost nearly $1.2 billion.
Environmentalists are hoping Duke Energy will pay a big fine for its spill, saying that anything less would be a "slap on the wrist" for the mega energy company.