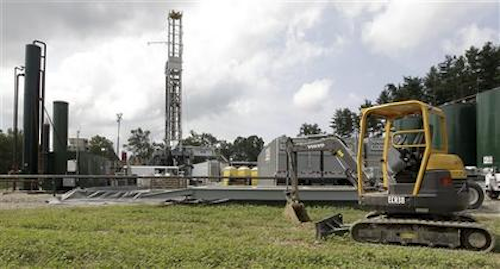 CASPER, Wyo. (AP) — Oil drilling economics and public health concerns tussled in tug-of-war Monday as the petroleum industry, advocacy groups and homeowners told state regulators what they think should be the minimum distance between homes, and oil and gas wells in Wyoming and why.
The Wyoming Oil and Gas Conservation Commission proposes to increase the state's required minimum setback distance from 350 to 500 feet amid a recent surge in drilling that has put oil wells closer to homes in parts of eastern Wyoming, including the Cheyenne area.
Hardly anybody says 500 feet would be too far. Rather, debate since the commission took up the change last year has focused on whether 500 feet would be far enough to shield homeowners from the noise, truck traffic and air pollution associated with drilling.
Representatives of the oil and gas industry and their supporters told the commission at a public hearing distance equals money: A wider setback reduces options as companies evaluate where they can drill.
Modern directional drilling enables wider setbacks. But companies incur higher costs when they have to drill farther and potentially make more turns to hit a sweet spot, pointed out Shane Galles, regional board member of the National Association of Royalty Owners.
"Once you get back to a quarter-mile or half-mile setback, it becomes essentially a de facto ban on drilling," Galles said in support of the 500-foot distance.
A setback of a quarter mile or more is advocated by environmentalists and the Powder River Basin Resource Council landowners' group, which cite not only physical health as being at risk.
"We're concerned about the stress of what it's like to live near one of these facilities," said Shannon Anderson, an organizer for the council.
At least 100 people attended Monday's standing-room-only hearing at the headquarters of the oil and gascommission, a state agency that regulates oil and gas drilling. The agency is overseen by a five-member commission chaired by Gov. Matt Mead.
The commission could vote on the proposed change as soon as its regular monthly meeting Tuesday, or it could decide to take more time to review hundreds of written comments that have been submitted.
Many other oil states, including Texas and Colorado, are debating well setback distances. In Colorado, the debate is whether to increase the distance from 500 feet to 1,500 feet or more.
In Wyoming, the issue is especially sensitive because of the billions in tax and royalty revenue the mineralsindustry provides to state and local governments. Government officials often hesitate to endorse any measure that could impede oil and gas development.
"It's very important for us to have as much money as we can into the state," said Natrona County Commissioner Rob Hendry.
In Texas, several municipalities have adopted setbacks of 1,500 feet — three times Wyoming's proposed distance — without problems, said Jill Morrison with the resource council.
"We don't see waste of resources or loss of value in those cases," Morrison said.
One homeowner in a rural subdivision of 10-acre lots on the east side of Cheyenne shared his experience with drilling outside his neighborhood. Brad Brooks said the noise of a diesel generator at a drilling rig woke him up at 10:30 p.m. the night before the hearing.
"That was a mile away," Brooks said. "Consider what that's going to be like at 500 feet."