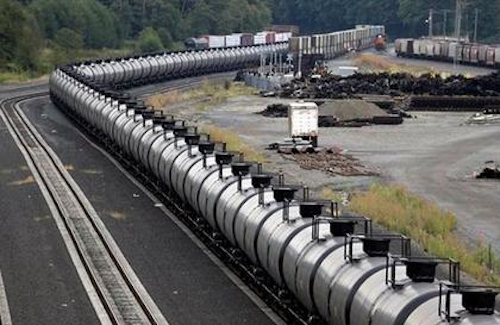 NEW YORK (AP) — The railroad freight-car maker Greenbrier announced a sharp hike in orders during the second quarter, but industry watchers honed in on what railroads want to buy, rather than how much.
The company opened the year with strong orders for railcars used outside of the energy industry and that is key. Oil prices are in steep decline, trading just above $43 per barrel Tuesday. Oil can now be had at prices not seen in six years.
Not only are drilling companies pulling back on spending, but manufacturers and other companies begin to put their goods on trucks rather than trains when the price of diesel falls.
The Greenbrier Cos. on Tuesday revealed that it had recorded new orders for 10,100 railcars valued at $1.09 billion. According to Chairman and CEO William Furman, there have been orders for 24,200 new railcars valued at $2.33 billion since its fiscal year started on Sept. 1, 2014.
"Deliveries will extend beyond calendar 2016, with nearly 80 percent of these orders for railcars that serve non-energy related markets," Furman said in a printed release Tuesday.
Analysts Michael Baudendistel of Stifel Nicholas said orders during the quarter represent a 75 percent increase compared with the same period last year.
"The current order volume demonstrates the strength and diversity of the company's business (which we believe is underappreciated by the market)," Baudendistel wrote.
Shares of the Lake Oswego, Oregon, company climbed 3 percent, or $1.71, to $56.03 in midday trading.
Shares also rose at Trinity Industries Inc. and Westinghouse Air Brake Technologies Corp., two other industry players.