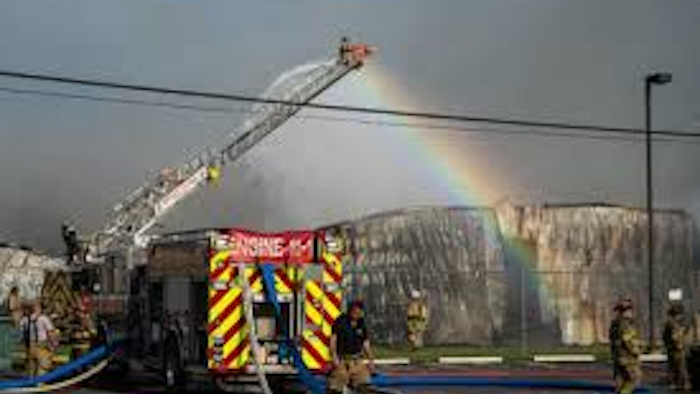 After a fire broke out at the Miller Chemical and Fertilizer in Pennsylvania plant early Monday morning, firefighters did what they are trained to do — they turned their hoses on the massive flames and tried to stop them from spreading.
But as the water washed over the plant and drained away from the site, a mix of toxic chemicals flowed with it and made its way into the nearby Conewago Creek.
Within days, dead fish began floating to the shore and officials realized they had a massive fish kill on their hands. It is now estimated that 20,000 to 100,000 have been killed by the contamination that preliminary tests have shown is a mix of nitrates and total organic carbon.
Could the environmental damage have been avoided?
The main point being scrutinized in local media is Miller's lack of a retention pond near the plant to keep so much water from flowing off site.
The fire started around 3:30 a.m. and the flames were doused for about six hours before the first responders became concerned about contamination, and decided to shut the water off and let the fire burn itself out.
 "Possibly close to millions of gallons [of water was used]," a firefighter reported to local media. "At one time there were five truck companies pumping water and many more engine companies on hydrants."
Although heavy equipment was brought in to build a retention pond, it was too late to stop the chemicals from entering local waterways. Heavy rains in the days after the fire only made matters worse.
An expert in training first responders for chemical emergencies said that firefighters were right to make battling the blaze their first priority. He also noted that while new facilities are more likely to have certain precautions such as retention ponds, older plants built when regulatory codes were different may not.
Avoiding gaps in preparedness is why he said local first responders should always work with local chemical plants to make solid plans for emergencies like fires and explosions.
No one was injured in the fire, but the plant is now considered a "total loss." As of Friday, boating, fishing and swimming in the nearby creek was still prohibited. The cause of the fire is still under investigation.