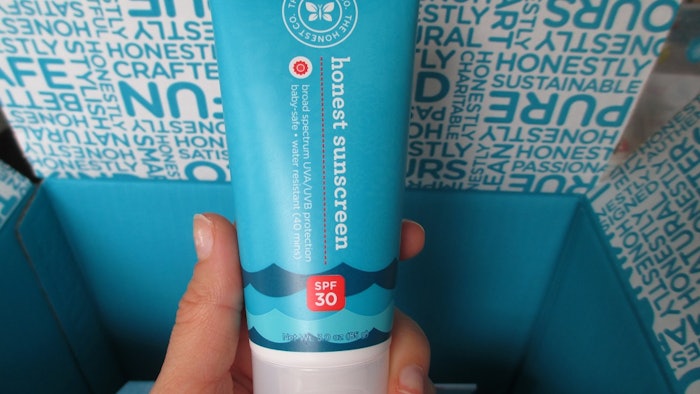 Dozens of parents lit up social media and product review boards during the last week with complaints that a sunscreen made by The Honest Company, a 'toxic-free' body care company owned by Jessica Alba, hasn't been doing its job.
The product is labeled as an "ultra-pure" sunscreen that's mineral based with an SPF of 30. One woman reported to local media that after applying the product to her daughter, "She got really burned on her arms, shoulders, legs face, pretty much everywhere. I was angry."
A litany of other angry parents have also left poor reviews for the product on Costco and Amazon's websites with similar complaints of the product leaving their kids with burns.
Alba launched The Honest Co. in 2012 to provide "chemical-free" alternatives to body and home care products. It's been smooth sailing for the company in the last few years, with product expansions and revenue that's swelled from $150 million in its first year to over $1 billion in 2014.
Alba has also used her position in the industry to influence debates around chemical safety and regulation.
But this latest public outrage is suddenly shining the spotlight on her company's products and whether they can ditch the chemicals but still remain effective.
According to one local news report, The Honest Co. cut down on the amount of zinc oxide — the active ingredient in most commercial sunscreens — in its tubes of sunscreen from 20 percent to 9.3. The company says it added other ingredients to keep the product just as effective, but most sunscreens contain between 18 to 25 percent of the mineral.
In the same report, the Food and Drug Administration commented that The Honest Co.'s products were not tested by the FDA for safety because law requires manufacturers to test their own products.
Yesterday, The Honest Co. released a statement in response to the controversy: "Our Sunscreen Lotion was tested, by an independent 3rd party, against the protocols prescribed by the U.S. Food & Drug Administration's (FDA) monograph for over-the-counter sunscreen products. The results showed that our product is effective and safe for use as an 80 minute water-resistant (FDA's highest rating), SPF 30 sunscreen lotion in accordance with FDA regulations when used as directed."
"We stand behind the safety and efficacy of this product."