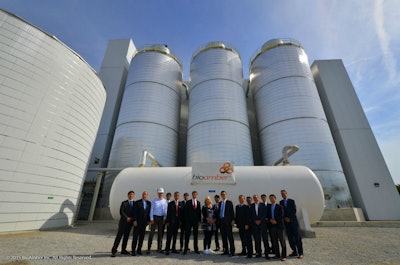 A Canadian biotech company this month opened the world's largest facility for producing chemicals from sugar.

BioAmber's new plant, located in Sarnia, Ontario, will convert glucose sourced from nearby agricultural suppliers into succinic acid, which can be used as feedstock for chemicals in plastics, coatings, paints, flavorings, personal care products and other industries.

The company's technological process will produce the acid at a lower cost than making block chemicals from petroleum, and equates to a 100 percent reduction in greenhouse gas emissions compared to conventional petrochemical production.

"We're excited that our renewable chemicals made from sugars are making everyday applications around the world more sustainable," said BioAmber CEO JF Huc. "We believe our disruptive biotechnology is going to profitably deliver benefits for the environment, our customers, our shareholders and the Sarnia Lambton community."

The plant — jointly built with Mitsui & Co. — cost about $141.5 million; it's expected to produce up to 30,000 tons of succinic acid per year and employ about 60 full-time workers.