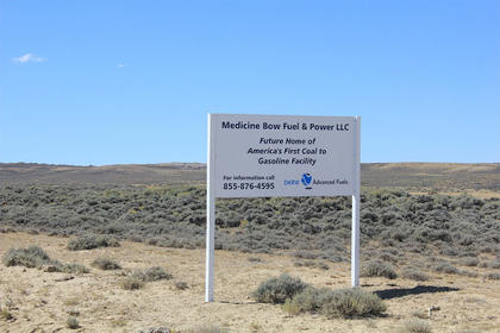 MEDICINE BOW, Wyo. (AP) — Low oil prices have prompted a company to scale back its plans for building a plant that would turn coal into gasoline and other liquid fuels in southern Wyoming, a company official said.
The announcement Wednesday by Houston-based DKRW Advanced Fuels raised new skepticism about whether the plant at Medicine Bow in Carbon County would be built.
Since it was first proposed in 2004, the project has been plagued with delays and funding problems. Under the initial plan, the plant would cost about $2 billion.
William Gathmann, DKRW's senior vice president for finance, said the company was looking at reducing the scope of the plant because the price of oil has dropped from around $100 a barrel to around $60.
As first planned, the plant's products would be less competitive on price, he said.
"We've been looking at different ways to construct it, all in an effort to reduce the overall cost and make it more economical," Gathmann said.
The plant would turn coal into 87-octane gasoline, liquefied petroleum products such as propane and butane, carbon dioxide that would be used for enhanced oil recovery, and sulfur to be used in chemical and fertilization products.
How much the plant will be downsized and how that would affect the number of workers during construction and production wasn't immediately clear.
DKRW will need an amended construction permit from the state for any changes to the plant, said Luke Esch, administrator of the Department of Environmental Quality's Industrial Siting Division.
However, DKRW would not be required to resubmit a new application for the plant, which would take much longer to complete, he said.
The announcement raised doubts from some residents of the Medicine Bow area about whether the plant is moving forward at all.
"Nothing has changed in their story for eight years," said John Johnson, a Carbon County commissioner. "It is getting harder and harder to believe it."
DKRW is still working on financing the plant. In addition, Arch Coal, which owns a 24 percent share of the project, wrote the plant off as a $57.7 million loss last year, and DKRW terminated an agreement with the Chinese construction firm that had been chosen to build the facility.
Carbon County Commission Chairman Leo Chapman, who has long supported the project, said his patience was wearing thin with DKRW.
"I want this thing to go," he said. "But you can only cheerlead for so long."
Chapman said he worried the company would not be able to meet a June 2016 deadline to provide the state with a construction schedule and a July 2017 deadline to begin work.