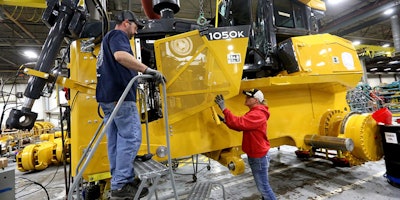 Growth in the U.S. manufacturing sector slowed modestly in March, according to the Institute for Supply Management's latest monthly survey of supply chain executives.

The poll indicated a Purchasing Managers' Index of 57.2 percent, which was below the 57.7 percent level in February but eclipsed the 50 percent threshold — which reflects growth — for the seventh consecutive month.

March's PMI snapped a six-month streak of accelerating manufacturing growth, but ISM Manufacturing Business Survey Committee chairman Bradley Holcomb noted that a strong first quarter wrapped up with the first PMI of 57 percent or more in back-to-back months in years.

"It's just about the same," Holcomb said. "A half a point in this environment is just noise level in terms of ups and downs."

The survey also showed a modest decline in the index of new orders, which fell by 0.6 percentage points to a still-robust 64.5 percent. The production index, meanwhile, remained above the growth threshold but slid by 5.3 percentage points to 57.6 percent in March.
The survey showed a 4.7 percentage point increase in the index for manufacturing employment, which, at 58.9 percent, reached its highest level in nearly six years.

Holcomb suggested that the employment spike reflected production that was "not able to keep up" last month.

Poll respondents indicated that raw material inventories contracted for the third time in four months and that customer inventories were again considered too low for the sixth month straight.

The index of order backlogs increased modestly to 57.5 percent last month, and the prices index eclipsed 70 percent after a 13th consecutive month of growth. The March level of 70.5 percent was the highest since May 2011.

"It's certainly something that we're watching," Holcomb said of the continued rising prices.

The PMI also translated to growth in the overall economy for the 94th consecutive month.