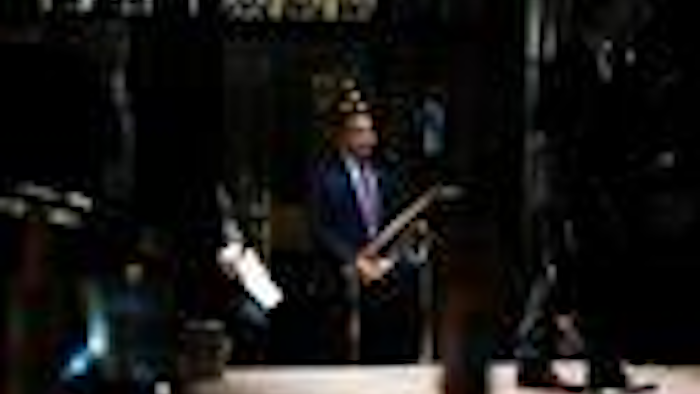 WASHINGTON (AP) — The Latest on Donald Trump's transition to the presidency. (All times EST):
7:50 a.m.
Ohio congressman Tim Ryan says Democrats should get back to economic basics of manufacturing, not veer to its liberal wing in the wake of Republican Donald Trump's election victory.
Ryan is considering challenging Rep. Nancy Pelosi as House Democratic leader because he says the party risks sliding back into an ideological past rather than moving forward.
He told MSNBC's "Morning Joe" on Wednesday that Democrats "have to grab that idea of making things in America again."
"No one wants to hear about job retraining," he said. "They want jobs."
___
6:30 a.m.
President-elect Donald Trump is denying reports that efforts are underway to get security clearances for his adult children.
In a post on his verified Twitter account @realDonaldTrump early Wednesday, the billionaire businessman who's to be inaugurated as the nation's 45th president on Jan. 20, said, "I am not trying to get top security clearances for my children."
Trump, who has been immersed in transition planning at his office skyscraper in New York in recent days, added, "This was a typically false news story."
There had been rampant speculation in recent days that such an effort was being attempted. Asked about it earlier this week, Kellyanne Conway, who was Trump's campaign manager, said in a broadcast interview she wasn't "intimately' familiar with the issue and indicated she couldn't confirm it.
4:20 a.m.
Turkey's president has criticized protests in the United States against Donald Trump, saying the president-elect should be respected and given time to show how he will govern.
Speaking to reporters on Wednesday before a visit to Pakistan, Recep Tayyip Erdogan said the protesters were "attacking" Trump because "the person they wanted wasn't elected president."
Erdogan said: "Hold on a second. The election process just ended, show some respect! How will he govern, let's see that first."
The Turkish leader added: This is important in terms of showing who respects democracy in the world."
3:30 a.m.
President-elect Donald Trump hadn't been seen in public for days when he walked into New York's 21 Club to applause from fellow diners. The unannounced evening out with family was a contrast to the behind-the scenes machinations that suggested a struggling transition as names surfaced and sank for top administration positions.
Not to worry, Trump suggested in a Tuesday night tweet: "Very organized process taking place as I decide on Cabinet and many other positions. I am the only one who knows who the finalists are!"
Before dinner at the midtown Manhattan restaurant— he broke with protocol and left his press contingent behind — Trump met with the head of his transition team, Vice President-elect Mike Pence, but another day passed without a Cabinet announcement.