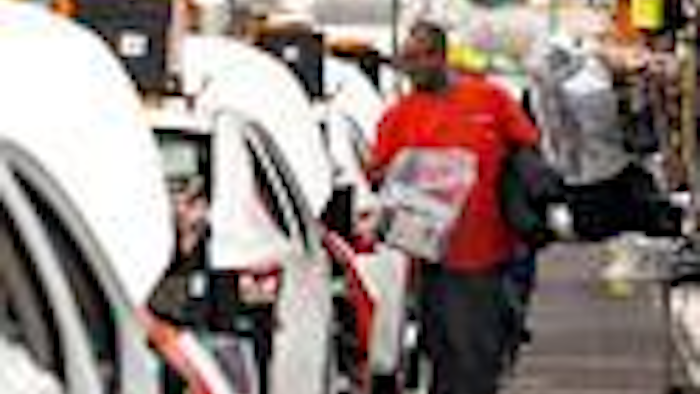 WASHINGTON (AP) — Orders to U.S. factories edged higher in August, with a key category that tracks business investment plan rising for a third straight month.
Factory orders increased 0.2 percent in August after a much larger 1.4 percent gain in July, the Commerce Department reported Wednesday. However, the overall figure was heavily influenced by a swing in the volatile commercial aircraft category, which had jumped 72.9 percent in July but declined 22.7 percent in August.
A core category, which serves as a proxy for business investment, was up 0.9 percent in August. It was the third straight monthly increase. Analysts are hoping the string of gains in the investment category could be a signal that businesses are beginning to spend again to expand and modernize their facilities.
Orders for durable goods, items intended to last at least three years like cars and home appliances, edged up 0.1 percent in August. Demand for nondurable goods, a category that covers such items as chemicals and paper, rose 0.2 percent in August after a 0.8 percent decline in July.
One of the strongest categories in August was oil field and mining equipment, which climbed 6.1 percent after surging 48.4 percent in July and 223 percent in June. This area had been struggling as energy companies cut exploration and drilling in response to the big fall in oil prices over the past two years. Even with the huge gains this summer, orders for oil field and mining equipment through August are 57 percent below the same period a year ago.
Factories have been mired in a slump for much of this year, hurt not only because of the cutbacks in the energy industry but also because of a strong dollar that has hurt export sales.
The Federal Reserve reported that factory productivity fell 0.4 percent in August. Makers of appliances, home electronics and machinery all pulled back.
This slowdown has led factories to shed 30,000 workers in the past year. A broader measure of industrial output, which includes mines and utilities, also dropped 0.4 percent, the Fed said.