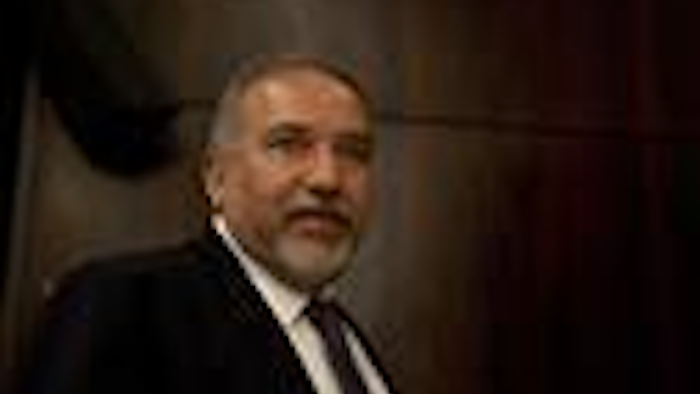 JERUSALEM (AP) — Israel has seized dozens of weapons, shuttered arms-making factories and arrested weapons dealers in a crackdown in the West Bank meant to quell an ongoing spate of Palestinian violence, an Israeli military official said Tuesday.
Col. Roman Gofman, a commander of a West Bank brigade, said the crackdown is making it more difficult and expensive to carry out attacks with guns.
Gofman said the 10-month outburst of violence had reached a new intensity with an increasing amount of attacks using guns. Last month, two Palestinian attackers killed four people when they opened fire on a Tel Aviv restaurant, and earlier this month, a man was killed after his car was shot at in the West Bank. Most of the violence has been carried out by knife-wielding Palestinians.
He said some 200 guns had been seized since the start of the year and that 16 factories forging crude weapons had been closed.
The crackdown has raised gun prices, Gofman said. For example, a crude gun based on the Swedish "Carl Gustav" submachine gun cost around $500 a few months ago, whereas now it can cost upward of $2,500, he said.
He said that weapons makers were also becoming more hesitant to sell arms to potential attackers out of a fear that they could be tracked down by the military.
Some 34 Israelis and two visiting Americans have been killed in the wave of violence. More than 200 Palestinians have been killed by Israeli fire, the majority identified as attackers by Israel. The rest were killed in clashes with Israeli troops.
Israeli leaders say that Palestinian incitement, including on social media, has fueled the violence. The Palestinians say that nearly 50 years of Israeli occupation and a lack of hope for gaining independence are driving youths to carry out attacks. The attackers have overwhelmingly been in their teens or 20s, often acting alone, making it difficult for Israeli forces to stop them.
Earlier Tuesday, the office of Israeli Defense Minister Avigdor Lieberman said it blocked an Israeli delegation from traveling to the West Bank because the Palestinian officials it was to meet included Mohammed al-Madani, an aide to President Mahmoud Abbas overseeing outreach to Israeli society.
Lieberman has accused al-Madani of "subversive activities."
The Israeli delegation was from the Geneva Initiative, a group that promotes a negotiated peace agreement with the Palestinians. It included Yossi Beilin, a former Cabinet minister and peace negotiator, and members of Prime Minister Benjamin Netanyahu's Likud Party.
Gadi Baltiansky, the group's director, accused Lieberman of using security as a "pretext" for pushing a political agenda.