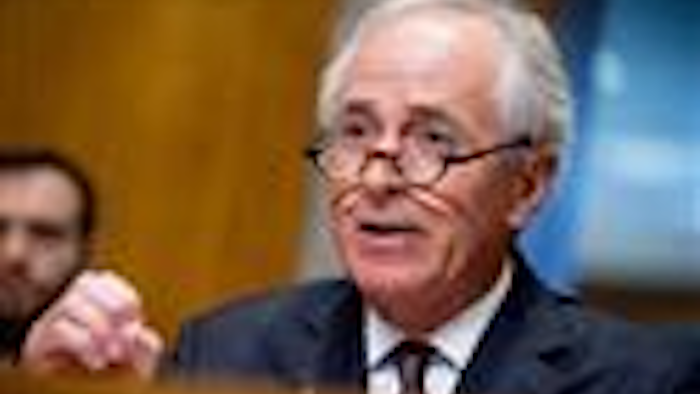 WASHINGTON (AP) — The Latest on Campaign 2016 weeks before the Republican and Democratic national conventions (all times EDT):
3:09 p.m.
Sen. Charles Grassley, chairman of the Senate Judiciary Committee, said the FBI should release evidence uncovered during its investigation of Hillary Clinton's email server, not just the summary of its inquiry.
The Iowa Republican says FBI should "include the actual evidence so the public can make an educated decision on its own about the judgment and decision-making of all the senior officials involved," including FBI Director James Comey.
Grassley's committee has been investigating Clinton's use of a private email server while she was secretary of state. He said numerous Freedom of Information Act requests and other congressional requests have been placed on hold because of the ongoing nature of the investigation, "so now the FBI should respond fully and completely to all of them."
___
2:49 p.m.
Republican Donald Trump is traveling to North Carolina with one of his potential vice presidential choices.
Sen. Bob Corker is expected to introduce Trump at a rally Tuesday evening in Raleigh, North Carolina, just a few hours after Democratic rival Hillary Clinton appears for the first time with President Barack Obama.
"Looking forward to meeting with @SenBobCorker in a little while," Trump said on Twitter, where he's been publicizing a series of closed-door meetings with elected officials, including Indiana Gov. Mike Pence.
Corker is the chair of the Senate Foreign Relations Committee and would add foreign policy experience to the GOP ticket.
___
2:09 p.m.
The White House says President Barack Obama is enthusiastic about Hillary Clinton's campaign but doesn't plan to address the FBI investigation into her emails when he campaigns with her Tuesday.
White House press secretary Josh Earnest is dodging questions about the investigation's findings and how they reflect on Clinton. He says the White House is trying to avoid the appearance of interfering while the Justice Department considers whether to charge Clinton.
The FBI recommended no charges and the attorney general has said she'll accept the recommendations of career Justice Department prosecutors.
Earnest tells reporters traveling with Obama and Clinton to North Carolina that FBI Director James Comey didn't tell the White House the results of the investigation in advance of his public comments.
___
1:01 p.m.
Less than two hours after a legal cloud was lifted from her campaign, Hillary Clinton has boarded Air Force One for a flight with President Barack Obama to a joint campaign appearance in North Carolina. The trip comes as FBI Director James Comey says the FBI will not recommend criminal charges in its investigation into Clinton's use of a private email server while secretary of state.
Clinton's rival Donald Trump objected to the travel arrangement. He tweeted, "Why is President Obama allowed to use Air Force One on the campaign trail with Crooked Hillary? Who pays?"
Presidents make all their airplane flights on Air Force One, no matter the purpose of the trip. Political committees are required to contribute to the cost of a president's campaign-related travel, though a portion of such costs is borne by taxpayers, too.
__
12:48 p.m.
Hillary Clinton's spokesman says the campaign is pleased that the FBI will recommend no charges against her for blending personal and State Department email on a an unsecured private server.
Clinton spokesman Brian Fallon says in a statement that the campaign is "pleased that the career officials" overseeing the investigation "have determined that no further action by the department is appropriate."
Fallon adds that Clinton has said previously that it was a "mistake to use her personal email and she would not do it again."
He adds the campaign is "glad that this matter is now resolved."
___
12:42 p.m.
House Speaker Paul Ryan says the FBI's decision not to prosecute Hillary Clinton defies explanation.
He says in a statement Tuesday that "No one should be above the law."
FBI Director James Comey earlier announced he would recommend no charges be brought against Clinton over her handling of email funneled through a homebrew server while she was secretary of state.
Comey said Clinton and her staff were reckless in their handling of email containing secret government information. Comey said 113 total emails that traveled through Clinton's personal server contained classified information at the time they were sent or received. Clinton has previously denied that she sent or received any emails containing classified information.
___
12:01 p.m.
FBI Director James Comey's highly unusual announcement directly contradicts some of the assurances Democratic presidential candidate Hillary Clinton has made about her email server over the 16 months since The Associated Press first discovered her private server operating in the basement of her house .
Comey said the FBI's investigation determined that 113 total emails that traveled through Clinton's personal server contained classified information at the time they were sent or received.
Clinton has repeatedly said that none of the emails were marked classified at the time they were sent or received.
Clinton said last July that, "I am confident that I never sent nor received any information that was classified at the time it was sent and received."
Comey said during his news conference Tuesday that however the information was "marked," participants who know or should know that the subject matter is classified "are still obligated to protect it."
___
11:40 a.m.
Hillary Clinton, the presumptive Democratic nominee for president, is criticizing her GOP rival, Donald Trump, for his brash tactics, telling thousands of teachers that bullying should not be allowed from somebody running for the White House.
Clinton spoke Tuesday at the same time FBI Director James Comey was announcing that his team would seek no charges against the Democratic candidate over the private email server she kept as secretary of state. He said however that her State Department was "extremely careless" about handling secret government information.
The friendly audience shouted "Hillary! Hillary!" and many booed when she spoke about Trump.
Clinton says teachers "would not tolerate that kind of behavior" in classrooms. Clinton added, "Let's not tolerate it from someone trying to be president of the United States."
Clinton also underscored her support for unions, which she said have helped create the "strongest middle class in the history of the world."
___
11:39 a.m.
Republican Donald Trump is expressing amazement that FBI Director James Comey has recommended no charges against Democrat Hillary Clinton over her private email server.
He tweets, "No charges. Wow!" In a tweet sent one minute earlier, the presumptive GOP presidential nominee says, "Very very unfair! As usual, bad judgment."
___
11:37 a.m.
FBI Director James Comey says his agency's forensic examination of Hillary Clinton's private server and emails showed that it was possible that foreign governments spied on the contents of some messages.
He said at a news conference Tuesday, that the agency assesses whether, "it is possible that hostile actors gained access to Secretary Clinton's personal email account." He added that no criminal charges would be referred to the Justice Department.
Comey said investigators did not find "direct evidence" that Clinton's system was breached, but added the commercial email accounts used by some outsiders who messaged with her had been penetrated.
The Associated Press reported in 2015 that Clinton's server was targeted by spam from Russia. The AP also reported that Clinton's server was connected to the internet in ways that made it vulnerable to hackers.
___
11:24 a.m.
House Speaker Paul Ryan is criticizing Donald Trump for tweeting an anti-Semitic image, saying it and others like it have "no place" in a presidential campaign. He says the Trump campaign has to "clean this thing up."
Ryan made his comments Tuesday on the Charlie Sykes radio show in Milwaukee, Wisconsin.
Trump has denied that the image he tweeted was anti-Semitic. It showed a Star of David along with some criticism of Hillary Clinton. Trump argues it wasn't a Star of David, just "a basic star, often used by sheriffs who deal with criminals and criminal behavior."
Ryan also says that if he commented on every "ridiculous" tweet sent out by the Trump campaign, "I'd have no time for anything else."
___
11:18 a.m.
FBI Director James Comey says the FBI will not recommend criminal charges in its investigation into Hillary Clinton's use of a private email server while secretary of state.
Comey made the announcement Tuesday, three days after FBI agents interviewed the Democratic presidential candidate in a final step of its investigation.
The Justice Department has been looking into whether anyone mishandled classified information that flowed through Clinton's private email server. Attorney General Loretta Lynch said last week that she would accept the recommendations of Comey and of career prosecutors.
Although Comey's announcement removes the threat of criminal charges, it's unlikely to eliminate concerns about Clinton's trustworthiness. And it almost certainly won't stop Republican presidential candidate Donald Trump from continuing to make the server a campaign issue.