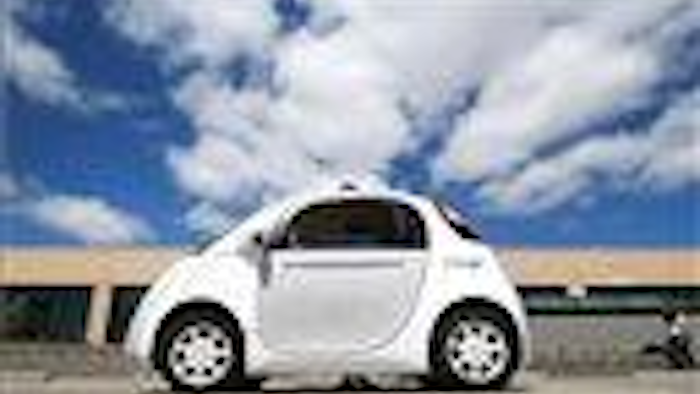 LOS ANGELES (AP) — Companies that are developing self-driving cars of the future want U.S. government regulators to clear the road for public access to the technology, once it emerges from current prototype testing.
Earlier this month, federal officials announced an aggressive plan to get the technology to the public's hands sooner than later. U.S. Transportation Secretary Anthony Foxx said his department will fast-track policies and possibly waive regulations, and in written guidance, federal officials projected that "fully automated vehicles are nearing the point at which widespread deployment is feasible."
Though neither Google nor traditional automakers have said they think the cars are ready yet, at least a dozen companies are developing the technology. Google has suggested a model could be ready for limited use sooner than the public realizes.
In California, which has become a leader in both self-driving car testing and regulation, the Department of Motor Vehicles is wrestling with how to keep the public safe as the imperfect technology matures, but not regulate so heavily that the agency stifles development of vehicles that have potentially huge safety benefits.
On Thursday, DMV officials will hear from advocates and skeptics with strong opinions about precedent-setting draft regulations the agency released last month. The regulations will govern the cars' eventual rollout to residents.
So far, the agency has taken a cautious approach, one that Google in particular says will stymie the technology.
Google has concluded that human error is the biggest risk in driving, and the company wants to remove the steering wheel and pedals from cars, giving people minimal ability to take over.
The DMV said cars must have a steering wheel in case onboard computers or sensors, including radar, lasers and cameras, fail. A licensed driver would need to sit in the driver's seat, ready to seize control in an emergency.
The DMV has been overseeing prototype testing on California roads for more than a year. There have been scattered collisions, nearly all involving Google cars. Those collisions have been minor, and Google says each has been caused by other drivers.
The agency now must write regulations on how to move from testing to public use.
One thing seems likely: If California's final regulations are close to the DMV's draft, Google will focus deployment of cars without steering wheels elsewhere, possibly in Texas, where it began testing prototypes last year.
Also under California's draft framework, an independent certifier would need to verify a manufacturer's assurances that its cars are safe. Google and traditional automakers want manufacturer self-certification, the standard for other cars.
Once a company receives that verification, manufacturers would receive a permit for three years. Consumers could lease the cars, but manufacturers would be required to monitor how safely they are driving and report that performance to the state. Drivers would need special, manufacturer-provided training, and then get a special certification on their licenses.
If a car breaks the law, the driver would be responsible.