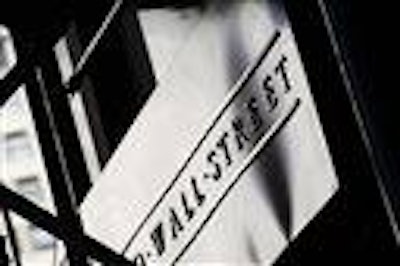 NEW YORK (AP) — Stocks advanced for a third straight day on Wednesday, once again helped by higher oil prices, which lifted shares in oil and gas companies.
Trading was light as Wall Street and the rest of the country heads into Christmas and the New Year. U.S. markets will be open for only a half day on Thursday.
The Dow Jones industrial average rose 185.34 points, or 1.1 percent, to 17,602.61. The Standard & Poor's 500 index rose 25.32 points, or 1.2 percent, to 2,064.29 and the Nasdaq composite rose 44.82 points, or 0.9 percent, to 5,045.93.
With the gains in the last three days, U.S. markets have recovered most of the losses incurred late last week. The S&P 500 is back in the black for 2015, albeit slightly.
Investors took their cues from the energy markets once again. Oil prices rose for a third day, bouncing back from lows hit earlier in the week, which helped lift the battered energy sector. U.S. crude futures jumped $1.36, or 3.8 percent, to $37.50 a barrel on the New York Mercantile Exchange. Brent crude, which is used to price international oils, added $1.25, or 3.5 percent, to $37.36 a barrel in London.
"The market lately has been ruled pretty clearly by oil in particular, and more broadly, commodity prices. Now we seem to have some stability in oil, copper and other metals that's helping the market," said Scott Wren, senior global equity strategist at the Wells Fargo Investment Institute.
Oil and gas prices rose sharply, easily beating out other sectors in the market. Among individual stocks, Murphy Oil rose $1.31, or 6 percent, to $23.62, ConocoPhillips rose $2.75, or 6 percent as well, to $49.03 and Halliburton added $1.43, or 4.2 percent, to $35.45. Overall, the S&P 500 energy sector is up 5.6 percent this week alone. For the year it's still down 21 percent, the most in the S&P 500.
In other trading, Nike fell $3.14, or 2.4 percent, to $128.71, after the company reported revenue that fell short of analysts' forecasts. Nike is still the biggest winner in the Dow average this year with a gain of 34 percent.
U.S. government bond prices fell. The yield on the 10-year Treasury note rose to 2.26 percent. The dollar slipped to 120.88 yen from 121.04 yen a day earlier. The euro edged lower to $1.0912 from $1.0952.
In other energy commodities, heating oil rose 3.2 cents to $1.119 a gallon, wholesale gasoline rose 6.7 cents, or 6 percent, to $1.241 a gallon and natural gas rose 9.5 cents, or 5 percent, to $1.983 per thousand cubic feet.
Precious and industrial metals prices ended mixed. Gold fell $5.80 to $1,068.30 an ounce, silver slipped 3 cents to $14.29 an ounce and copper edged up two cents to $2.12 a pound.