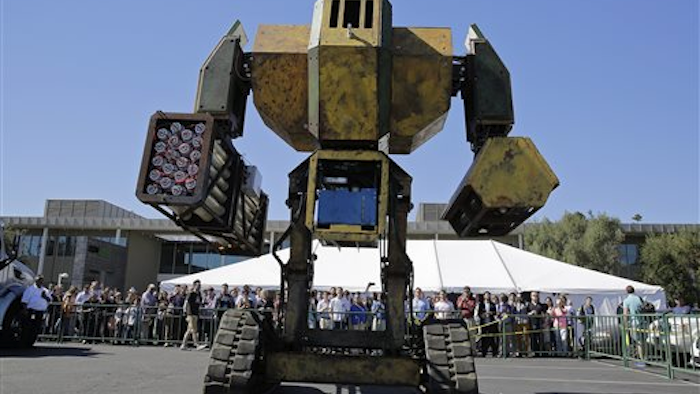 The stage is set for the first global giant robot battle, to be waged between California-based MegaBots and Tokyo-based Suidobashi Heavy Industries.
The date isn't set yet — though the battle will be sometime next year — but the lineup is: Mark II versus Kuratas.
Mark II is 15 feet tall and 12,000 pounds with an internal pilot. It can fire huge paintballs at more than 120 miles per hour. Kuratas, on the other hand, weighs in at 9,000 pounds and is 13 feet tall.
But that's not quite enough to make the battle interesting for Suidobashi — they requested hand-to-hand combat. Suidobashi also said MegaBots needs to "make it cooler" and enhance their giant robot with something besides guns.
So, MegaBots raised more than $500,000 on Kickstarter to add weapons like a giant chain saw or a punching fist to "America's first fully-functional giant piloted robot," says Megabots co-founder Matt Oehrlein. They also plan to make Mark II faster and more stable, tapping minds from NASA and Mythbusters along the way.
"We can't let another country win this," said Kogoro Kurata, Suidobashi's founder. "Giant robots are Japanese culture."
Who do you think will win the giant robot showdown? Comment below or tweet @MNetKatie.