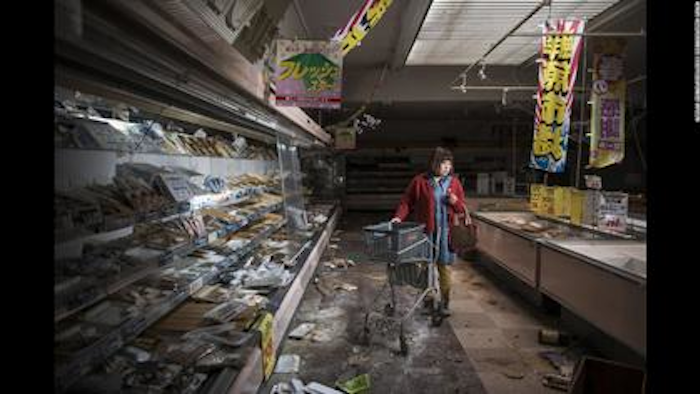 It's not uncommon for disaster retrospectives to include numerous hopeful images of how area residents recovered in subsequent years. That's not what Carlos Ayesta and Guillaume Bression had in mind for the area near the former Fukushima nuclear plant in Japan.

The photographers made numerous trips in to the restricted zone surrounding the plant after a 2011 earthquake and tsunami helped trigger the largest nuclear meltdown since Chernobyl.


In a haunting series of photos featured on CNN, they instead staged former residents in ruined, still-abandoned buildings.

One stands with a shopping cart in a grocery store with food strewn across the floor. Another looks around from a severely warped basketball court. A third stares out the window from a now-empty restaurant.


The first of seven nearby towns to be completed evacuated after the meltdown reopened last month, but most remain empty and radiation remains a threat in the area. Japanese officials, meanwhile, restarted the country's nuclear power plants this summer amid political and economic pressure.