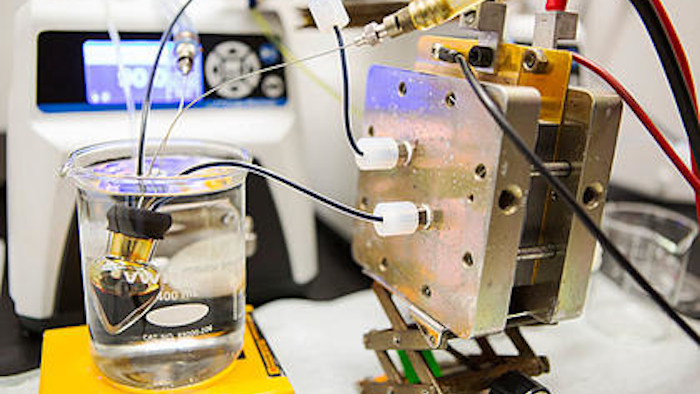 A new flow battery developed by Harvard University scientists could make solar and wind power dramatically more cost-effective.

Officials also said that the system offers significant advantages over lithium-ion energy storage, such as the batteries introduced by Tesla earlier this year.

The Harvard battery, detailed in the journal Science, utilizes compounds comprised of common elements that are dissolved in water. The solution picks up and releases electrons when combined with a stable ion called ferrocyanide.

Harvard chemist Roy Gordon said the system promises "the first high-performance, nonflammable, nontoxic, noncorrosive, and low-cost chemicals for flow batteries."

Conventional flow batteries use expensive and volatile metals that can be inefficient. Last year, the Harvard team replaced those metals with organic molecules called quinones to provide the negative side of the battery system.

The new flow battery uses ferrocyanide — rather than the more volatile bromine — to provide the positive side.

Not only are the battery's materials widely available and inexpensive, but they're also nontoxic, noncombustible and noncorrosive — and therefore could be made with cheaper materials like plastic.

"This is chemistry I'd be happy to put in my basement," said Harvard engineer Michael J. Aziz.

Flow batteries, which store energy in liquids held in external tanks, can also be scaled up to provide grid-level storage capacity.

Harvard officials are working with companies in hopes of commercializing the new technology, which they said is cheaper and maintains peak discharge better than the system developed by Tesla.

"In order for a lithium battery to discharge over a long duration, many separate battery cells are required, rather than one larger battery," postdoctoral fellow Michael Marshak told Fortune.