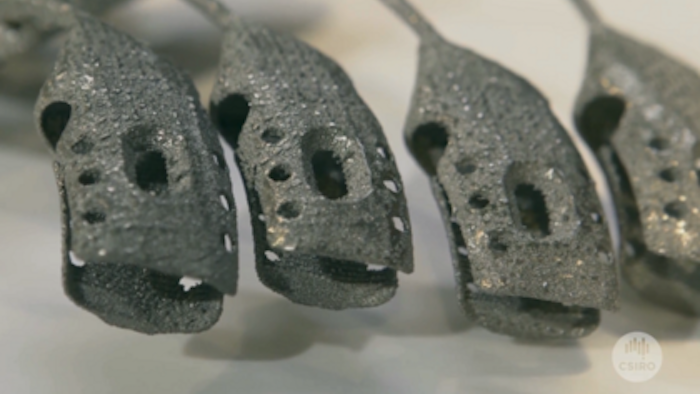 A Spanish man diagnosed with cancer received the world's first 3D printed sternum and rib implant.
The 54-year old man required the implant after being diagnosed with a chest wall sarcoma, a tumor that grew around the rib cage. Hissurgical team at Salamanca University Hospital knew that they would need a completely customized implant in order to replicate the complicated geometries found in the chest cavity.
They reached out to Australian medical device company Anatomics, which determined that the best way to create a custom implant was through metallic 3D printing.
"We wanted to 3D print the implant from titanium because of its complex geometry and design," said Anatomics CEO Andrew Batty.
One of the most difficult aspects of the design work was assuring that the implant was rigidly fixed and would not come loose over time, Batty said. Titanium implants have been used in chest surgery before, but not without such consideration about long-term issues.
Using high-resolution data from a CT scan, the Anatomics team created a 3D model of the chest wall and tumor, letting surgeons accurately define resection margins.
Based on this model, the team developed the implant's central sternal core, semi-flexible titanium rods in place of ribs, and plates that could screw on to the end of bone.
Anatomics then got in touch with the Commonwealth Scientific and Industrial Research Organisation(CSIRO), Australia's national science agency.  They had done medical work like this before, and had an Arcam electron beam metal printer which can create a high quality implant.
 "It would have been an incredibly complex piece to manufacture traditionally, and in fact almost impossible," said Alex Kinsbury, additive manufacturing research leader at CSIRO.
"Australia has a really fabulous skill space in biotech and biomechanical manufacturing," she said. "3D printing is set to really take advantage of that skill space."
After the piece was printed, it was sent back to Spain for a successful surgery.
"The operation was very successful," said Dr José Aranda. "Thanks to 3D printing technology and a unique resection template, we were able to create a body part that was fully customized and fitted like a glove."