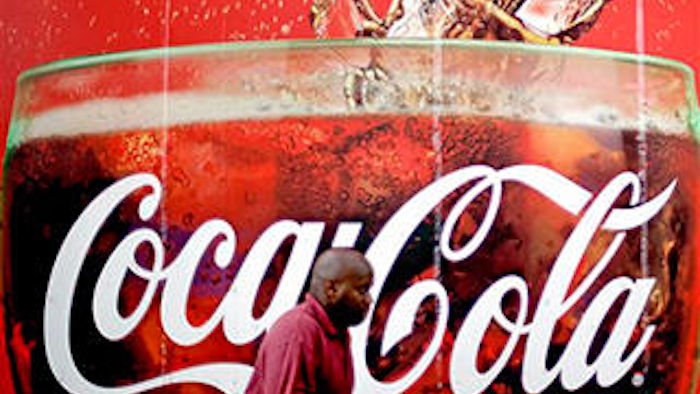 As you sip that ice-cold Coca-Cola, the workers who helped manufacture it are worrying about losing their jobs.
Just this morning, Coca-Cola announced it will be laying off between 1,600 and 1,800 jobs throughout the next few months in an effort to help trim costs.
The Atlanta-based company, which also makes Sprite, Powerade and VitaminWater, among others, currently employs around 130,600 people around the world, according to FactSet.
In a recent statement, Coca-Cola said it will "continuously look for ways to streamline our business," suggesting possibly even more cuts to come in the future.
The soda maker is not alone in trying to overcome the negative perceptions that the sugary beverage has had on the American diet. Its rival, PepsiCo Inc., is also dealing with the declining soda consumption in the U.S., with public health officials calling for warning labels and even specialized taxes to discourage consumers from drinking it.
Nearly 500 of the layoffs will come from the Coca-Cola's headquarters alone.
While layoffs in any industry are no surprise in today's globalized economy, food and beverage companies seemed to take quite a hit in 2014. Perhaps the reason the number of layoffs seemed so high was because some of companies that announced layoffs were among the largest and best-known in the industry.
PepsiCo
The other large soda maker, PepsiCo, announced in December that it would begin cutting jobs at its Chicago facility. Feeling the pain of soda losing popularity, the company vowed to cut its cost by $8 billion by 2019.
But soda companies aren't the only well-known companies in the industry that are slashing jobs:
AB InBev
The maker of the all-popular Budweiser and Bud Light brands is also dealing with changing consumer tastes. As Americans are turning to craft brews, the world's largest brewer announced layoffs in December.
General Mills
While beverage choices are shifting in America, so too are breakfast options. With so many new products on supermarket shelves, cereal is not the obvious go-to breakfast choice as it once was.
As a result, General Mills shut the doors of several of its factories last year.
A New Year
While jobs come and go in every year, there is some good news. According to the Bureau of Labor Statistics, employment numbers actually rose in the food manufacturing industry last year.
Did your company experience layoffs last year? Is the changing of consumer trends putting your company in danger in 2015? Comment below.