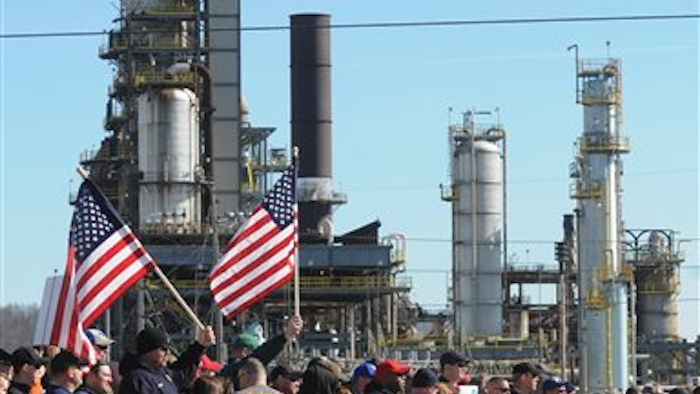 A strike by union members at oil refineries continues to expand with some 6,550 workers now off the job at 15 plants or refineries across the country.

The strike began at the beginning of February with 3,800 members of the United Steelworkers union walking out at nine refineries after the union's previous labor deal expired – the largest work stoppage at the facilities since 1980.

Days later, the union added two Midwestern BP plants to the affected facilities, and the list grew to include 15 plants – among them 12 refineries – early this week. The newly affected plants include a refinery in Port Arthur, Texas – the nation's largest – along with two refineries and a chemical facility in Louisiana.

The expanded strike means one-fifth of the nation's overall refining capacity has been impacted by the labor dispute between the USW and a coalition of oil companies. Overall, 30,000 USW members work in 63 refineries, comprising about two-thirds of the nation's capacity.

Negotiations reportedly nearly produced a tentative agreement late last week before they were halted. USW officials blamed industry negotiating tactics for the increased walkout amid continued concerns about staffing levels.
 
"The industry's refusal to meaningfully address safety issues through good faith bargaining gave us no other option but to expand our work stoppage," said USW President Leo Gerard.

Royal Dutch Shell, the lead negotiator for the industry, has indicated negotiations stalled over the use of non-union maintenance contractors. Company officials expressed disappointment in the expanded strikes.

"We believe this move sets the wrong tone for both parties to move forward and reach an agreement," said Shell spokesman Ray Fisher. "We remain committed to continued safe operations and productive negotiations."

Although production largely hasn't been hampered by the strike as it enters its fourth week, analysts said gas prices in some areas of the country have likely already been impacted – adding that concerns over plant maintenance could grow as the dispute drags on.
ENTRIES OPEN: Establish your company as a technology leader. For 50 years, the R&D 100 Awards, widely recognized as the "Oscars of Invention," have showcased products of technological significance. Learn more.