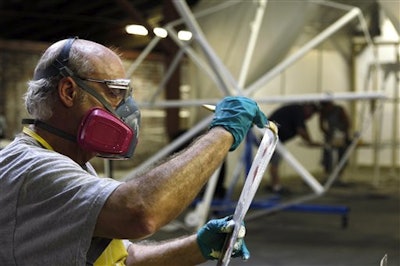 In this photo taken Monday, June 25, 2012, whirligigs by Vollis Simpson are shown along the entrance to Fearrington Village near Pittsboro, N.C. (AP Photo/Gerry Broome)
WILSON, N.C. (AP) — The eccentric vision of a self-taught North Carolina artist famed for his whimsical, wind-powered whirligigs is getting an overhaul that's as much about engineering as it is about art.
Just as more traditional conservators might study an artist's canvas and paints, the 16-member team working in a former downtown auto parts warehouse pores over pieces of reflector and debates whether to use more modern bearings to replace old-fashioned grease fittings on Vollis Simpson's spinning sculptures.
They're restoring about 30 whirligigs — wind-driven creations constructed from motor fans, cotton spindles and other recycled parts — that stand as high as 50 feet. Simpson built the contraptions over the years on land near his machine shop in Lucama, about 35 miles east of Raleigh in North Carolina's coastal flatlands. But at 93, his knees no longer allow him to climb and maintain his creations.
With the help of approximately $2 million in grants and donations, a few organizations in nearby Wilson are building the Vollis Simpson Whirligig Park. It's scheduled to open in November 2013. Between now and then, the team is sprucing up whirligigs that have spent decades in the elements, including more than a few hurricanes.
"He made them to last his lifetime, and they basically have," said Danny Price, a retired Bridgestone tire plant worker who's now the whirligig mechanical foreman. "So our next step is to make them last generations."
The whirligigs have captured attention across the country. Buyers include a shopping center in Albuquerque, the American Visionary Art Museum in Baltimore and the American Folk Art Museum in New York City. A North Carolina dentist placed one outside a window to entertain children.
Four of them were taken to Atlanta for the 1996 Olympics and they're still there.
The whirligigs — some weighing as much as 3 tons with hundreds of moving parts — are folk art or outsider art, works created by someone without a formal background in art. Simpson also has no formal engineering degree either, but he's built tow trucks to move houses. He once built a motorcycle from a stolen motor and a bicycle when he was an Air Force staff sergeant on Saipan during World War II.
Price leads the mechanical and engineering side of the conservation, which takes up 25,000 square feet of warehouse space and an outdoor area where the whirligigs are parked.
The workers look to maintain Simpson's original work while also making it possible to repair the machines in the 2-acre city park.
Folklorist Jefferson Currie, who leads the painting side of the repair, says Simpson is mainly interested in making sure the whirligigs work. Like Price, however, Currie wants to stay as true to the artist's vision as possible, while renovating the whirligigs so that a city can maintain them.
"I talk to Vollis," Currie said. "We get his OK. Usually, he tells me to do what we want to do."
In this photo taken Thursday, June 21, 2012, Joe Justice paints a piece of a Vollis Simpson whirligig at a warehouse where renovations are taking place in Wilson, N.C. (AP Photo/Gerry Broome)
Stainless steel screws replace roofing tacks and new pieces of reflector replace old. When the damage is extreme, rotting wood is replaced. In such cases, Currie notes the renovation on the piece.
"To me, it's the most important to keep the intent of what Vollis was doing, to make sure the integrity of Vollis' imagination and artistry, mechanical and engineering and patience continue on, and it's not our hand on it, it's his, even though we've had a lot of work to get it back to what he intended," Currie says.
About 20 miles away from the warehouse where Currie and Price mull over Simpson's work, Simpson himself sits in a rickety chair, surrounded by scrap metal and smaller whirligigs, suitable for family yards and tabletops.
Several of his larger whirligigs still stand there; a few will remain after the park is built, including one that will stay as a gift to the community. Simpson is conflicted about the park — he knows he couldn't care for the whirligigs but he's lonesome without them.
"Well, I kind of hate to see them go," he said. "I've looked at them for 50 or 60 years."
He says he's excited about the park, but is concerned about the opening date that's more than a year away. "I just hope I live to see it."
Simpson says he doesn't consider himself an artist.
"But everybody says I am," he said. "I'm just an old country boy."
To the people restoring the whirligigs, Simpson is both artist and engineer.
"Now he may not have been an educated engineer, but these are engineering feats, I can tell you that," Price said.
When Currie looks at the whirligigs, he mainly sees patience.
"The one that looks like a Christmas tree, there's 2,000 reflectors on there," Currie said. "And he had to cut each one of those reflectors out by hand, snip them, drill two holes in them, bend them over and tied them all with copper wire — 2,000 times."
Simpson doesn't disagree with Currie's assessment necessarily.
"It sure won't easy," he said. "People thought I was crazy. And I am to a certain extent."
___
Associated Press writer Allen Breed contributed to this story.