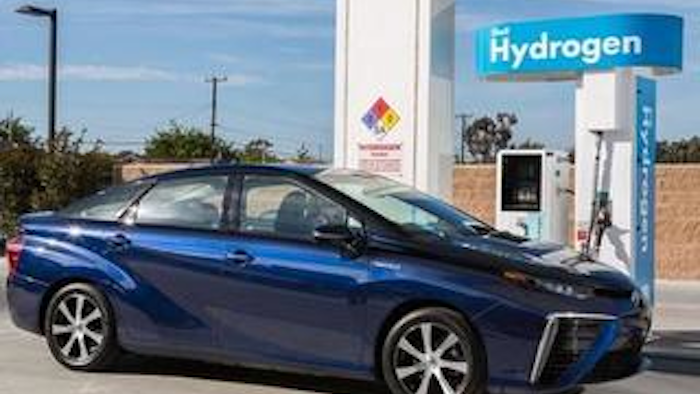 Toyota announced this week that the company will begin to take applications for its new hydrogen-powered, zero emissions car, the Toyota Mirai, on Monday. The model will have an official range of 312 miles in each single fill of hydrogen with an EPA-estimated 67 miles per gallon, which coolly surpasses Tesla's all-electric Model S P85D.
But don't get too excited, because unless you live in California, are close to one of the only 10 public hydrogen fuel stations and pass an application and interview process, then you're out of luck. However, Toyota did confirm that customers who apply and are deemed ineligible may request to be placed on a waitlist pending future production.
As if extremely limiting your customer base to "the bold and the few" wasn't enough, it seems as though the Mirai might face something of an infrastructure problem as well. According to the Department of Energy, the U.S. currently only has 12 public hydrogen fuel stations —  10 of these 12, as alluded to above, just so happen to be in California.
To circumvent these rather limited conditions, Toyota plans to build 46 more hydrogen stations in California in addition to the offering the following other incentives to customers: three years of free fuel, three years of 24-hour customer support and an eight-year, 100,000-mile warranty.
Setting the bar low, Toyota says they hope to sell around 3,000 models of the vehicle by the end of 2017. Such a low number (even if each car is $57,500 a pop) begs the question: Will Toyota's investment yield a substantial return?
Here's looking at you for that answer, California.
What do you think of Toyota's plan to limit the Mirai? Comment below or tweet me @MNetAbbey.