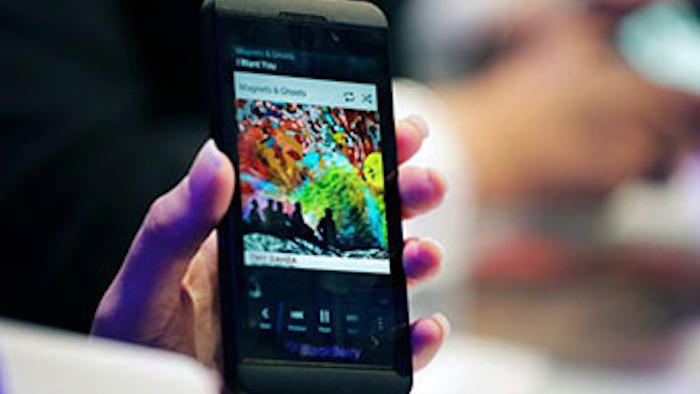 There's nothing worse than a very public break-up, so you might want to take it easy on BlackBerry for a while. In case you haven't heard, BlackBerry has ended its U.S. licensing deal with T-Mobile, saying the companies "no longer have complementary strategies."
That's one way of saving face, but it doesn't really betray the humiliating details at the impetus of this situation. According to the AP:
In a blog post in February, BlackBerry CEO and Executive Chair John Chen said that T-Mobile had emailed an offer targeting BlackBerry users on its network asking them to switch their BlackBerry devices to a competitor's smartphone… Chen told its customers that BlackBerry was upset about the offer and that T-Mobile hadn't spoken with the Canadian company before or after launching the promotion.
The press release reads like a classic break-up.
Chen said in a statement that the company hopes to work with T-Mobile again when their business strategies align.
I take this to mean that BlackBerry isn't saying that there is not a future with T-Mobile; they're just in different places in their journeys right now.
But can BlackBerry afford to make this kind of a statement? In an article titled "Beggers Can Be Choosers," Zach Epstein of BGR Media says they can.
"This is certainly a bold move by BlackBerry that shouldn't have too much of an impact on its bottom line, and at the very least, it shows fans that the company won't be pushed around as it looks to stage a comeback," Epstein said.
I hope Epstein is correct and BlackBerry can weather this setback, but for some reason I still feel the need to send Chen an edible arrangement. Regardless, BlackBerry can't really afford to pause. Despite announcing a smaller-than-expected Q4 loss on Friday as Chen slashed costs, the company still posted a 64 percent drop in revenue. 
According to the AP, BlackBerry is transitioning its business from a smartphone company to a software business under Chen, who is deemphasizing the hardware business after last year's launch of the BlackBerry 10 failed to spark a turnaround:
Chen, who is credited with turning around Sybase, a data company that was sold to SAP in 2010, is putting more emphasis on BlackBerry's mobile device management business, a collection of software that allows IT departments to manage different devices connected to their corporate networks.
Chen is also emphasizing BlackBerry's popular BlackBerry Messenger application that is now also available on Apple and Android devices, and is trying to highlight Blackberry's embedded QNX software systems, which are used in industrial machines.
So whether or not its life includes T-Mobile, BlackBerry faces a challenging road as Chen attempts to right the course. Maybe instead of we "no longer have complementary strategies," BlackBerry should have used the other prolific break-up line: "I just need to focus on my career."
BlackBerry might regain some visibility in B2B, but can it survive? Leave your comments below.
---
To read more by Anna Wells, sign up for our newsletter. You can also follow Anna on Twitter @IndustrialAnna or contact her by email at anna.wells@advantagemedia.com.