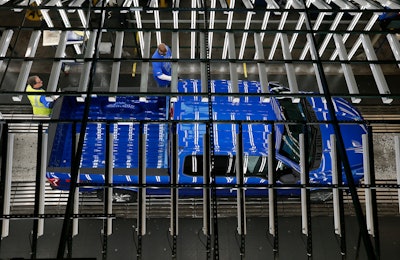 This week, the manufacturing 'Winner and Loser' are both in the automotive sector, however, that's where their similarities end. The winner this week has not only increased hiring because of surging demand for their new and innovative product, but they have also raised a significant number of their employees' wages. Meanwhile, the loser finds themselves in a very different place as they are forced to issue a recall for over two million cars because of a faulty product. This week the winner and loser are Ford and TRW Automotive Holdings Corporation.
Winner
On January 5, 1914 Henry Ford, the founder and chief executive officer of Ford Motor Company shocked the business world when he raised his workers' wage from $2.38 to $5 per nine-hour day. Now, in 2015, it seems that the Ford Motor Company isn't shying away from a little company tradition. This week Ford Motor Company announced that it will be moving several hundred hourly workers to a higher pay bracket — making them the 'Winner of the Week.'
Ford has said that up to 500 workers will be moved from an entry-level pay of $19.28 to a top-tier wage pay of $28.50 per hour, which would transition workers from an annual earnings of approximately $40,100 to $59,280. The changes are supposed to take place over
the next two months and the majority of the workers affected are located out of the Chicago, Kansas City, Missouri, and Louisville plants.
This pay bump also marks the first time that entry-level workers, from all three domestic carmakers, have been moved to a higher wage bracket since 2007. And to be fair, it's not all out of the good will of Ford's heart: the 500 hourly workers face the pay bump primarily because Ford has surpassed the cap on the number of "low wage" workers it can hire.
Still, along with increased wages, Ford announced plans to hire 1,550 new workers to support aluminum-body Ford F-150 pickup production in Kansas City and Michigan.
Loser
The loser earned their spot because of an air bag recall and, surprisingly, it is not Takata. A new, seperate, wave of recalls affect TRW Automotive Holdings Corporation, who thus becomes our 'Loser of the Week.'
This particular recall pertains to over two million Toyota, Chrysler and Honda vehicles that are being recalled for a second time in order to fix an air bag that can accidentally inflate while the car is running.
The recall includes cars such as the Acura MDX, Dodge Viper, Jeep Grand Cherokee, Honda Odyssey, Pontiac Vibe, Toyota Corolla and Toyota Avalon made from 2002 to 2004. According to the National Highway Traffic Safety Administration, all the cars covered in this wave of recall notices have already been included in past recall notices; however, previous solutions are only effective approximately 85 percent of the time.
The entire electronic control unit, which is responsible for the unplanned inflation, will be replaced in this new wave of recalls and should be available for all affected vehicles by the end of the year.
NHTSA Administrator Mark Rosekind urges people to seek out the new solution and said that car owners and "their families will be safer if they take the time to learn if their vehicle is covered and follow their manufacturers' instructions."