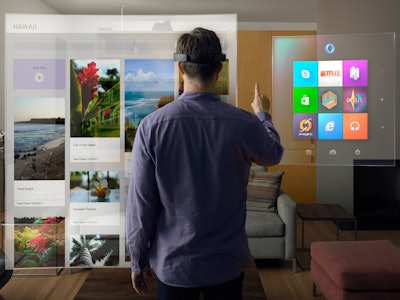 This week our 'Winner and Loser' is assigned to two companies in very different places. Microsoft announced new and innovative technology which has earned them the winning slot of the week. However, BP is back in federal court facing fines for the 2010 oil spill, earning them the losing slot.  
Winner
This past week, Microsoft unveiled the HoloLens, a 3D wearable headset that seems to be something out of the future. Expect for it isn't, the new wearable technology will be available for consumers within the coming year. For these reasons, Microsoft has won the title of 'Manufacturing's Winner of the Week.'
According to CNNMoney, the HoloLens is its own computer with a unique chip Microsoft is calling the holographic processing unit. The HoloLens isn't just an over glorified new toy either. "For the first time, holograms will become practical tools of daily life," says Microsoft.
The benefits of the HoloLens could even extend into the manufacturing sector. Through clear holographic visuals designs could be improved, communication could become more fluid as well as overall efficiency when one has everything at their fingertips.
This new technology will utilize Microsoft's newest operating system and will recognize users eye movements, gestures and voice to create the optimal experience.
To see some of the ways that HoloLens will be utilized check out the video below.
Loser
This week 'Manufacturing's Loser of the Week' goes to BP, which is back in federal court for the 2010 Gulf of Mexico oil spill. Even though the spill happened five years ago the company is still not off the hook yet.
The Justice Department attorneys are in court advocating that BP pay billions of dollars in civil penalties for the spill. The trial is constructed around the federal Clean Water Act penalties, and environmental researchers have begun testifying on the past and future of effects on the spill. If charged completely, BP could face around $13.7 billion in fines. However, BP is arguing that the government is not fully taking into account the health of the Gulf and the progress made in the five years since the spill.
What do you think?
Do you think that technology like the HoloLens will be applicable to the Manufacturing sector? And if so, how? 
What do you think of BP being back in court? Do you think that they should be forced to pay the highest fines, and if so, why?