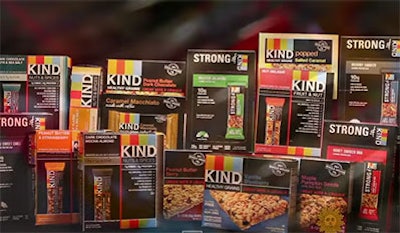 Although KIND bar sales have roughly doubled in size every year for a decade, last month the FDA sent a warning letter to the company for labeling several of their fruit and nut bars as "healthy"— because they do not meet federal standards.
Just this past weekend, a CBS News interview with KIND founder and CEO Daniel Lubetzky (see video below) talks about the company's success in building a following and selling over one billion of its bars to Americans. Now the company is addressing a letter sent to them by the FDA. In it, the FDA singles out the company's "healthy" claim on the labels of four of its bars: almond and apricot, almond and coconut, peanut butter-dark chocolate and protein, and dark chocolate-cherry cashew and antioxidants.
For a product to be considered healthy, the federal definition states that a product has to have only one gram of saturated fat per 40 grams of a product's serving size. The KIND bars in question contain between 2.5 and 5 grams of saturated fat per 40 grams. A post on the company website points to nuts being the cause of the increased fat content stating:
"Nuts, key ingredients in many of our snacks and one of the things that make fans love our bars, contain nutritious fats that exceed the amount allowed under the FDA's standard. This is similar to other foods that do not meet the standard for use of the term healthy, but are generally considered to be good for you like avocados, salmon and eggs."
The agency also points out the company's "antioxidant-rich" claim indicating that products do meet the 20 percent threshold of nutrient-rich ingredients such as vitamins C or E required in a product to get that label. According to KIND bar's label, it only has 15 percent.
KIND plans to work with the FDA to review its labels. If the company doesn't remove the "healthy" label, the FDA could seize the affected products. 
WHAT DO YOU THINK?
Is KIND misleading its customers by labeling their products "healthy"? Should products be tested before hitting the market to ensure it meets special labeling standards? Is the FDA overreaching? Tell us what you think by signing in and leaving your comments below.