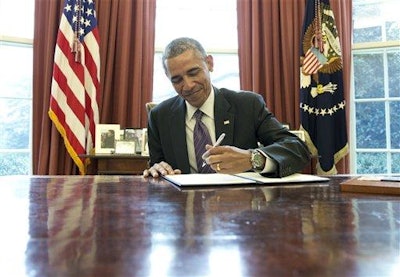 What can we expect from the President's State of the Union address tonight? Probably some gloating.
With gas now below $2 a gallon in most of the U.S., stocks soaring to record new highs, unemployment down to pre-recession levels, trade deficits shrinking and inflation low, love him or hate him, the Obama administration has helped in turning the economy around. According to a new NBC/WSJ poll 45 percent of Americans say they're satisfied with the state of the economy — that's the highest number in 11 years.
According to a recent Washington Post article, in spite of all the economic successes, there are still some hurdles to overcome:
Troubling fiscal trends remain, including a soaring national debt and stagnant wages. But senior administration officials say Mr. Obama intends to use the improving economy as leverage to call on Congress to approve a wide range of new federal programs that would cost more than $230 billion, from universal government-paid tuition for community-college students to expanded tax breaks for the middle class.
Even with more work to be done, the U.S currently has the strongest economy on the planet, but that scores the president zero political points. With recent talking points about tuition-free community college and paid sick leave, it appears that Obama isn't about to sit back during the last years of his presidency. Even with Republicans in control of the Senate and holding a majority in the House, some analysts believe it will free up the president to confront the GOP more often.
"He's got nothing to lose," said Richard Kelsey, assistant dean at the George Mason University law school. "He doesn't have to pretend to cooperate with [former Senate majority leader] Harry Reid."
Here's a CNNMoney look at just how strong the Obama economy is:
WHAT DO YOU THINK?
Does the White House deserve some credit for getting things back on track? Is the president over-the-top with some of his new economic ideas? If Obama isn't to credit for the economic upswing, who is? Tell us what you think by leaving your comments below.