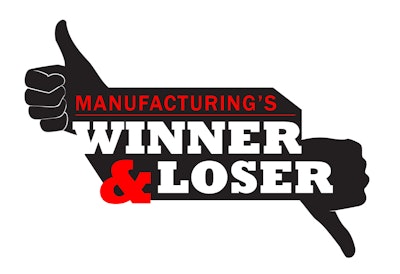 This week we have a winner who was recognized by the EPA for their efforts toward more environmentally sound manufacturing and a loser who has become the focus of lawsuits and a potentially reopened federal investigation.
Winner
This Monday, the U.S. Environmental Protection Agency (EPA) recognized Whirlpool Corporation with the "2015 Energy Star Partner of the Year" award. The award was given in recognition of the company's efforts to reduce greenhouse gas emissions by manufacturing green and energy efficient appliances, as well as their dedication to educating consumers about energy efficiency. In honor of this recognition, Whirlpool Corporation is also being named "Manufacturing's Winner of the Week."
"Whirlpool Corporation's ENERGY STAR qualified home appliances are helping Americans save money, save energy, and do their part to reduce our nation's greenhouse gas emissions that fuel climate change," said EPA Administrator Gina McCarthy. "Whirlpool's efforts demonstrate a strong commitment to energy efficiency and to preserving a healthy planet for future generations."
According to Whirlpool their commitment to the environment and energy efficiency is nothing new. Since 1969, the company has been committed to implementing sustainable initiatives into the company's business and products — and they have the awards to prove it. Whirlpool has received the Energy Star award 25 times thus far.
Loser
"Manufacturing's Loser of the Week" is the Jeep manufacturer, FCA. On Monday, a Georgia jury ruled that the company acted with reckless disregard for human life when they sold the family of Remington "Remi" Walden — a four year old who was killed in a fire resulting from the placement of the Jeep's gas tank.
The Walden family's lawsuit asserted that Chrysler had knowingly placed the gas tank in a dangerous "crush zone" and that the company failed to properly protect the tank against rupturing. The jury seemed to agree as they found Chrysler 99 percent responsible for the crash that killed the four and awarded the family with $150 million, which Chrysler will be responsible for paying.
This individual lawsuit is not the end of Chrysler's worries, however. On Thursday, the U.S. government's highway safety announced that they are considering reopening the investigation into Jeep gas tanks and the company's approach to the recall.
"We're not satisfied with the current situation," said Mark Rosekind, the administrator of the Nation Highway Traffic Safety Administration. "We are looking for every avenue that would be appropriate for us to take action."