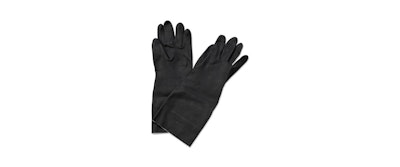 TOLEDO, OH — Often cleaning workers and their employers think work gloves are all about the same. Nothing could be further from the truth.
Because cleaning pros work with different chemicals, knowing how to select the right chemical resistant glove for the task at hand is crucially important.
Impact Products, a manufacturer of work gloves and other safety products for the professional cleaning industry, offers the following
Ten Things to Know When Selecting Chemical Resistant Gloves:
1. Know the types of chemicals and chemical ingredients you are working with

2. Review the chemical's Safety Data Sheet to know what ingredients may be potentially harmful

3. Chemical resistant gloves are generally made of latex, nitrile, neoprene, and PVC; use a "chemical resistance chart" provided by some glove manufacturers to determine which glove will work best with which chemical ingredients

4. Consider the dexterity of the glove; this refers to how easy the glove is to work with

5. Look for gloves that are puncture and snag resistant; a snag can catch on an object and cause the glove to tear

6. Determine the needed length of the glove; long-sleeve gloves are designed to fit over the hand up to the elbow; they are often recommended when working with chemicals

7. To select the right size glove; measure in inches around the palm of your hand. If you are right-handed, measure your right hand. If you are left-handed, measure your left hand. Typically gloves come in small, medium, large, and extra-large sizes

8. Become familiar with key terms when selecting chemical resistant gloves such as permeation, the rate at which a chemical passes through the glove; breakthrough, the time from contact with a chemical to its detection of the chemical inside the glove; degradation, when the glove's properties change due to chemical contact

9. OSHA's Standard 29 CFR provides employers with guidelines as to appropriate hand protection

10. Test drive the glove. "Some distributors or manufacturers will provide samples of their gloves," says Vicky Adams, Category Manager for Safety, Gloves, and Foodservice products for Impact Products. "Wear the gloves; make sure they are as comfortable as they are protective."
About Impact Products, LLC
Impact Products is a manufacturer and supplier of branded and private label non-chemical commercial cleaning, maintenance, safety, and related products.