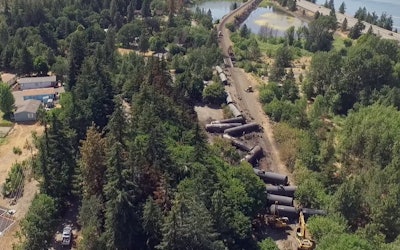 Included in IMPO's top five news stories: Tesla announces plans to release a lower-priced Model S and a worker at a Wisconsin plant is killed in a crane accident.
Take a look at last week's top stories:
Railroad Blames Broken Bolt For Train Derailment, Crude Spill: Railroad officials confirmed track failure led to the derailment of a train carrying crude oil in northern Oregon earlier this month. Union Pacific informed the Federal Railroad Administration that at least one broken bolt on the track caused the accident, the Associated Press reported. Prior to the official investigation, the company said that a problem with the fastener between the railroad tie and the line was likely to blame. The 96-car train was traveling through the Columbia River Gorge along the Oregon-Washington border on June 3 when more than 12 cars derailed. Four caught fire and some 42,000 gallons of crude were spilled.
Fiat Under Fire Over Sexist Owner's Manual: Fiat drew heated criticism in recent days after vehicles sold in Argentina were reportedly accompanied by owner's manuals with sexist language. The BBC reports than a section of the manual characterized women as "co-pilots" and included references to skirt lengths, "putting on make-up" and suggestions that they should "at least have nice legs."
Worker Dies In Crane Accident At WI Plant: Mosinee police say a worker died in an industrial accident involving an overhead crane. Emergency crews were called to Crystal Finishing Systems just before noon Tuesday. Mosinee Police Chief Kenneth Muelling says the 51-year-old man died at the scene. His name was not immediately released.
Tesla To Release Lower-Priced Versions Of Model S Car: Tesla said it has started selling a cheaper version of its Model S car in an attempt to make its electric vehicles more affordable for more people. The new version, called the Model S 60, starts at $66,000. An all-wheel drive version of the Model S 60 will start at $71,000. Both cost less that the current Model S 90D, which starts at $89,500. Tesla said that when tax incentives and gas-savings are taken into account, the Model S 60 will have an effective cost of about $50,000.
2nd Body Of 2 Missing Workers Recovered From Gravel Pit: Rescuers on Saturday recovered the body of a second man who disappeared in a landslide at a gravel pit in southern Mississippi earlier this month. The second body was found around 9:50 p.m. on June 10 and removed the next morning, said Mississippi Emergency Management Agency spokesman Ray Coleman. The man's body was taken to the Copiah County coroner's office for an autopsy. The worker was found trapped in the slurry near equipment he had been operating when he and the other man were buried in 10 feet to 12 feet of mud, slush and sluice on June 3.