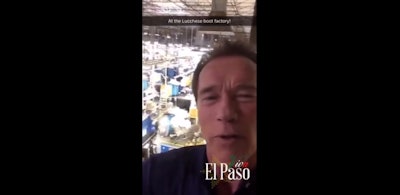 The Terminator himself, Arnold Schwarzenneger, made a stop in east El Paso, TX on Thursday to visit the Lucchese Boot Company near the Airport.
The former bodybuilder-turned-action movie star-turned California Governor, an avid social media user, posted a short selfie video on his Twitter, Instagram and SnapChat accounts during a tour of the factory.
Schwarzenneger previously bought a pair of Lucchese's 125th-anniversary boots in 2008, of which only 125 pairs were made.
Lucchese has been hand-making cowboy-style boots since 1883.