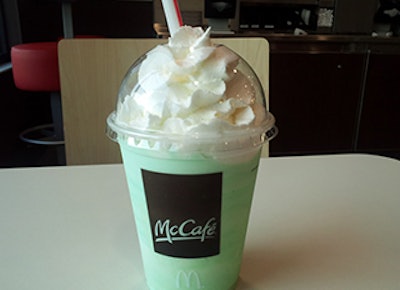 Happy March to all our readers out there!
It's another month closer to the warm temperatures many of us look forward to for more than half of the year.
Being a Wisconsin gal myself, I can certainly understand and share in your excitement that the snow *should* be melting soon (although we're probably not that lucky).
But while we're on the topic of luck, I'm sure it comes as no surprise that St. Patrick's Day is right around the corner.
Holidays present huge opportunities for food companies looking to market to a certain audience: the festive ones!
And what could be more fun than green food? I mean, who doesn't remember the green eggs and ham in elementary school?
There's big business in playing up the senses with childhood memories. And It is said that nostalgia plays a major role in limited-time holiday flavors.
One of the most notorious holiday foods this time of year is of course the McDonald's Shamrock Shake. With the creamy vanilla ice cream mixed with a green syrup, whipped cream and a maraschino cherry on top, it's hard not to enjoy at least one.
Throw a little green in the mix and suddenly everyone's a little Irish.
But good ol' St. Pats Day is not the only holiday that food manufacturers play off of.
A recent Associated Press article says limited-time flavors are a proven way to attract customers throughout the year. And around the Christmas holiday, flavors like candy cane, peppermint and gingerbread are particularly popular because of the power the scents and tastes evoke from time spent with loved ones.
The need to come up with new offerings also speaks to the seemingly endless appetite for different tastes.
"It's an overall trend around the sophistication of palates. People are more accepting of different flavors and different flavor combinations," Mark Miller, head of the Pringles business at Kellogg, said.
Miller said Pringles introduced three seasonal flavors, including White Chocolate Peppermint. The new product ended up being so popular that Pringles has since expanded to five flavors this year, introducing Milk Chocolate and Tortilla Cinnamon Sugar.
"Especially around the holidays, consumers are expecting a whole lot of fun," he said.
What fun foods do you turn to around certain holidays? Is there a specific green food or beverage you will be scouring the grocery aisle shelves for with the upcoming St. Patrick's Day? Let me know by commenting below.