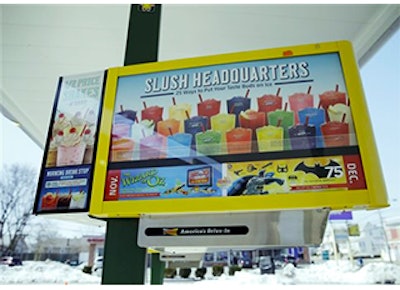 Consumer tastes are changing, with many moving away from soda and other sugary drinks and instead choosing a healthier alternative.
But that isn't stopping Sonic from rolling out some more of its candy/drink concoctions.
Last summer, Sonic Drive-In introduced a line of Slush drinks with Nerds candy mixed in. And according to the chain, they were so popular that some consumers were asking to get the crunchy candies mixed into various other drinks, like soda.
CEO Cliff Hudson says Sonic is looking to add a second candy-drink mashup this summer. While there are no plans in the works yet, Nerds remain on the menu as a drink add-in for 30 cents. 
According to the Associated Press, a medium size Grape Slush has 73 grams of sugar and 230 calories. Add in the nerds and you've got a whopping 130 grams of sugar and 510 calories!
That is an insane amount of sugar to consume in one day, let alone one drink. Clearly there are still people who buy these sugar-laden beverages, since Sonic says its drinks have been a large part of its growth strategy. What I don't understand, though, is if the U.S. is trying so hard to put restrictions on sugar to help with the obesity rates, then aren't these sort of beverages just feeding the problem?
(AP Photo/Matt Rourke)