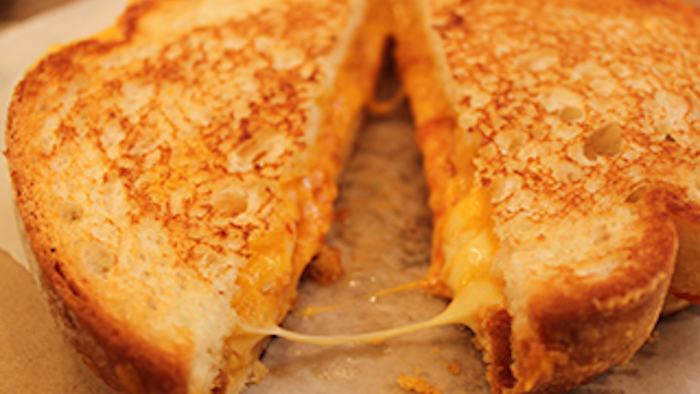 My daily diet usually consists of fruits and veggies, maybe some quinoa, eggs or beans and, for dinner, some sort of fish.
I have never been a huge lover of anything dairy (Gasp! But you're from Wisconsin. Yeah, I know), but there are very few foods I enjoy more than a delicious grilled cheese sandwich. 
Very rarely do I allow myself to indulge in this ooey, gooey goodness, but when I do I prefer to use pepper jack cheese.
But who knew your grilled cheese sandwich preferences could reveal a thing or two about you?
If you are simple to please and enjoy eating your grilled cheese sandwich with the ever-popular American cheese, perhaps you are laid back and easy going. But if you prefer Pepper Jack, like myself, or a 10-year aged white cheddar, does that mean you are a bit high-maintenance?
A new study by Skout, a social networking and dating site, surveyed 4,600 people and found that 86 percent of them "love" grilled cheese sandwiches.
The findings include an array of interesting facts about these sandwich lovers. Let's take a look at some of the highlights:   
More Action
According to the findings, grilled cheese lovers get more "loving" in the bedroom.
73 percent of those who love grilled cheese sandwiches have sexual relations at least once a month vs. 68 percent of those who don't care for the sandwich.
32 percent of grilled cheese sandwich lovers have relations at least six times in a month vs. 27 percent who pass on the melted, cheesy goodness.
Charity
The survey found that 81 percent of grilled cheese sandwich lovers said they have recently donated either their time, money or food to those in need. But, only 66 percent of those who dislike the sandwich say they have been as generous.
Travel
88 percent of grilled cheese lovers define themselves as "fairly" or "very" adventurous. But 75 percent of people who dislike the sandwich would say the same.
84 percent of fans love to travel, compared to only 78 percent of people who dislike the sandwich.
​The Ingredients
Here is where I thought it got a little interesting. Of the adults surveyed, 60 percent say they prefer a grilled cheese sandwich that mixes two types of cheeses. Really? Maybe I am just a plain-jane but I have never even thought of this idea before! I just may have to try this out sometime.
So what are the most popular cheeses? You guessed it; American cheese comes at number one, with 41 percent of grilled cheese lovers choosing traditional. That is followed by 33 percent who enjoy Cheddar, 10 percent who prefer Mozzarella, 8 percent who like Swiss, only 6 percent of Provolone lovers, and a meager 2 percent who would choose Brie in their grilled cheese sandwich.
As for the bread choice, white bread was the popular choice (51 percent), followed by wheat (29 percent), sourdough (13 percent), rye (4 percent) and a baguette (3 percent).
To read more about the survey, visit Skout's website here.