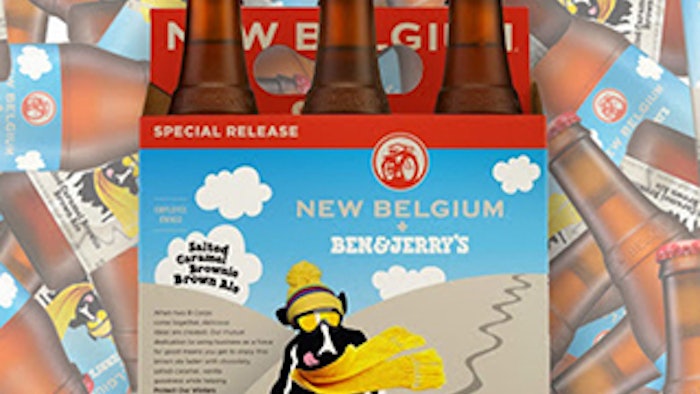 With warmer weather comes longer days, outdoor activities and most importantly (in my mind): ice cream.
Sure, you can enjoy a bowl of Mint Chocolate Chip ice cream any time of the year, but nothing beats enjoying that sweet treat on your back porch while the July sun is setting and your tanned feet are propped up on the neighboring chair.
But, as a Wisconsin girl, there's not many things I enjoy more than an ice cold brew. November. June. Grilling out on the deck. At 5 a.m. (I'd say I was kidding, but I can't deny I have had a few mornings start out this way). It doesn't matter when — beer is a staple in many Americans' diets.
So imagine my surprise when my coworker walked up to me this morning to inform me of the newest food mashup: beer and ice cream.
As if today being Friday wasn't enough to put a huge smile on my face, this definitely put the icing on top of the cake (or ice cream into my beer. So clever, I know).
Ben & Jerry's is teaming up with Colorado's New Belgium Brewery to bring us Heaven in four words: Salted Caramel Brownie Beer.
"At this time I can confirm that Ben & Jerry's and New Belgium are collaborating to raise awareness around issues we are passionate about, and that the results will be delicious," New Belgium's Director of Sustainability Jenn Vervier said in a statement earlier this week.
While the release doesn't go in to much detail about what the campaign will be about, the Senior Global Marketing Manager of Ben & Jerry's, Jay Curley, promised it to be impactful.
Curley said Ben & Jerry's is a huge fan of the New Belgium Brewery, not just for their tasty beers, but also for their fun culture and rich values.
The two companies are announcing details later in the year, but the beer — no, ice cream — okay...ice cream beer (?) is expected to hit the shelves by fall.
Both the brewery and the ice cream maker have a deep history of social activism, leading them to create this new mashup.
According to CNN, both companies are "B corporation" certified, meaning they meet the private non-profit B Labs standards of social, environmental, accountability and transparency methods.
But that's not the only idea Ben & Jerry's has had to widen its consumer base. Just last month, Ben & Jerry's cofounder Ben Cohen said he would be open to making pot-infused ice cream someday.
Would you be open to trying this Salted Caramel Brownie beer? How about the pot-infused ice cream (if or when it ever becomes reality)? Comment below or email me at kari.imberg@advantagemedia.com