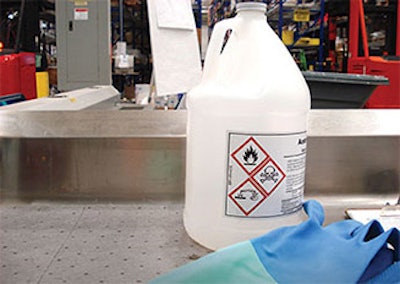 Starting June 1 at workplaces where employees handle hazardous chemicals, compliance with OSHA's revised hazard communication standard (HCS) is mandatory. The HCS was revised in 2012, when OSHA adopted chemical classification, labeling, and Safety Data Sheet requirements from the Globally Harmonized System for Classifying and Labeling Chemicals (GHS).
Before OSHA adopted GHS standards, employers could label hazardous chemicals as they saw fit — provided that employees were trained to recognize and understand the labels. Under GHS HazCom rules, a standardized label is required for all workplace containers of hazardous chemicals.
At a recent Lion Technology GHS webinar, attendees raised a big concern: How can companies fit all the newly required GHS hazard information on a container too small for a traditional label?
GHS HazCom Labeling Requirements
GHS hazard communication labels must include six critical elements:
A product identifier (as used on the SDS);
The name, address, and telephone number of the chemical manufacturer, importer, or other responsible party;
A signal word;
Pictograms;
Hazard statements; and
Precautionary statements. [29 CFR 1910.1200(f)(1)]
OSHA has been firm that container size is not an excuse for not using GHS labels. While the revised HazCom Standard lists no minimum size requirement for GHS pictograms or text, HazCom labels must be legible, in English, and prominently displayed on the container.
OSHA Guidance on GHS Labeling for Small Containers 
In a series of interpretation letters to the industry, OSHA has suggested alternate labeling options for containers too small for traditional glue-on labels.
Manufacturers can use pull-out labels, fold-back labels, attached tags, or other methods to make sure the container is labeled in compliance with GHS standards. If the manufacturer can show that the above options are not feasible, OSHA allows for an abbreviated label on a small shipped container, provided the outside packaging displays the elements required by 29 CFR 1910.1200(f)(1). Read OSHA's GHS labeling guidance at the links below:
June 4, 2013 Letter to the National Institute of Standards and Technology (NIST)
September 11, 2013 Letter to Henkel Corporation
September 20, 2013 Letter to the US Pharmacopeial Convention
Expert GHS HazCom Training 
To help hazmat shippers and safety managers prepare for overlapping US DOT and OSHA GHS hazard labeling regulations, Lion will present the live, instructor-led GHS Compliance for Hazmat Shippers Webinar on April 16 and May 12, from 1-3 p.m., EST.
For EHS or safety managers responsible for producing a hazard communication plan to protect employees on site, the OSHA GHS Compliance Webinar will be presented live on April 23 and May 19, from 1-3 p.m. ET through Lion.com. A 24/7 online course, Managing Hazard Communication, is also available now.