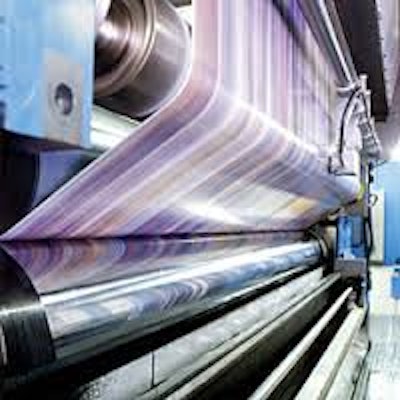 The commercial printing industry is hundreds of years old, and although much has been done to improve processes and efficiency since Gutenberg began printing in the 1450s, printers are continually looking at ways to reduce waste and meet consumer demand for cleaner solutions and enhanced environmental practices. 
While the commercial print industry produces billions of pages every year, the average commercial printer employs fewer than 50 employees, and can be resource-constrained when it comes to deploying the process engineering expertise and capital improvements needed to upgrade their environmental performance. As such, vendors to the industry can play a key role by bringing forth innovative new printing techniques that allow printers to obtain operational and profitability improvements while also reducing environmental impact. Examples of these innovations include process-free plates, digital printing solutions, and workflow software.
Process-Free Plates
While digital printing continues to expand in the marketplace, the vast majority of pages printed today are still produced by the offset process, due to favorable economics for longer run jobs and an established infrastructure of offset equipment. The traditional offset process begins with imaging an aluminum plate, developing the image in a chemical processing step, rinsing with large amounts of water, drying the plate and then transferring the plate to a press where the final printed product is produced.  
A key milestone in the reduction of waste from the offset process has been the introduction of process free plate technology. The process-free plate is taken directly from the imaging step to the press, eliminating the need for processing equipment and chemical development. The benefits of eliminating the processing step include savings on water use, energy consumption, chemical use and waste generation. For example, based on estimates for the use of one process-free plate on the market, printers will save 265 million liters of water. Energy savings are equally significant, amounting to 35 million kWh. Importantly, in most cases, no capital investment is required to switch to process-free plates, and printers actually see savings immediately from the elimination of the processing step.
Digital Printing Solutions
For those printers who are integrating digital technologies into their shops, the ability to print directly from computer files means a savings in materials, because of the elimination of plates in the digital workflow.  The use of variable data allows for short run and customized output that also reduces waste, as different jobs from different files may be run in rapid sequence.  
Workflow Software
Software innovations are also reducing the impact of commercial print.  Workflow software automates the preparation and execution of print jobs.  In busy print shops with high tech digital or conventional printers, multiple jobs must be run quickly with uncompromised quality.  Workflow software eliminates errors and waste by reducing manual interventions, and printers report double digit throughput increases when combining the speed to press of process free plates with the efficiency of workflow software.  
Like all industrial production across every market, the commercial printing industry is pressured by market forces that include the need to reduce costs from waste and inputs, and the satisfaction of customer demands for more sustainable processes.  Because of the dispersed nature of the printing industry, suppliers to the industry can play a critical role in providing solutions to help meet market demands for both businesses that are ready to invest in new production equipment and those needing to take advantage of existing assets.  Thanks to many exciting new innovations, the commercial print supply chain is turning this industry into a leader in sustainable production.