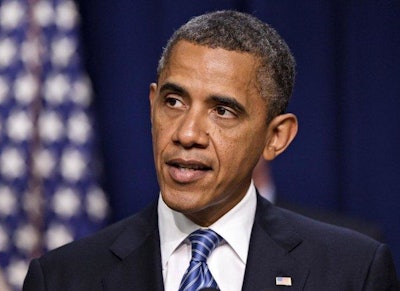 Today, the White House will announce the creation of a new agency named the Cyber Threat Intelligence Integration Center (CTIIC) — which will be tasked with thwarting cyberattacks by sharing intelligence across other agencies in the event of a crisis.
According to a report from The Verge, the idea behind the new agency is to apply lessons learned after the 911 terrorist attacks — which were blamed, in part, on intelligence failures — to the realm of cybersecurity.
"The cyberthreat is one of the greatest threats we face, and policymakers and operators will benefit from having a rapid source of intelligence," Lisa Monaco, President Obama's assistant for homeland security and counterterrorism, tells the Washington Post. Monaco will announce the creation of the CTIIC in a speech at today's event. "It will help ensure that we have the same integrated, all-tools approach to the cyberthreat that we have developed to combat terrorism."
The Wall Street Journal is reporting that it's unclear how the new division might interact with businesses and the public, if at all. Companies have also complained that the government doesn't share enough information with them about cyberthreats, and the White House is making a push to improve the flow of cyberthreat information between federal agencies and businesses.
But not everyone is happy to hear about the new agency. Melissa Hathaway, a former White House cybersecurity coordinator, tells the Post, "We should not be creating more organizations and bureaucracy. We need to be forcing the existing organizations to become more effective — hold them accountable."
The new division is expected to be housed within the Office of the Department of National Intelligence.
Is this a step in the right direction in protecting U.S. infrastructure, businesses and civilians? Or is this agency unnecessary? How would you like to see cyberattacks handled? Tell us what you think by leaving your comments below.
ENTRIES OPEN: Establish your company as a technology leader. For 50 years, the R&D 100 Awards, widely recognized as the "Oscars of Invention," have showcased products of technological significance. Learn more.