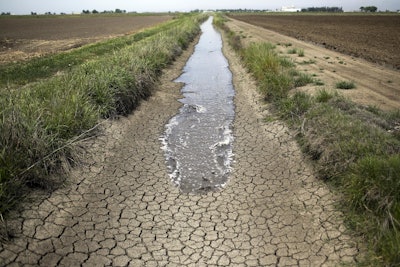 This week is all about trending topics on the Internet, including the drought in California and #EqualPayDay. But, for variety's sake, I've also included a slideshow highlighting some of the world's most breathtaking factories.
"How Water Cuts Could Affect Every Community in California" from The New York Times
By now, we've all heard about the serious drought problem in California, but not everyone understands the potential impact of Gov. Jerry Brown's mandate to cut water use by 25 percent. In this interactive infographic, The New York Times breaks down how much water each district might reduce its usage by. Hover over the circles to learn about community's population, daily gallons of water used per capita and so on.
"Here's the History of the Battle for Equal Pay for Women in America" from TIME
On Tuesday, the hashtag #EqualPayDay trended across social media platforms in recognition of the fight for equal pay in the U.S. As noted in the article, "the debate about equal pay is nothing new," but that didn't dull the optimism of enthusiasts as millions of proponents took to Twitter.
Insightful and informative, this piece epitomized the often overlooked problem of pay disparity by incorporating a timeline of women's rights documents and historical events dating back to the Civil War. As a bonus, TIME even linked to a story of theirs written in 1974 on equal pay that definitely deserves a read.
"Giant, Ominous Factories From Around The World" from WIRED
For my final pick, I've found a stunning photo series from WIRED that highlights some of the world's most beautiful factories. Click through the photos, but also be sure to scroll down for a vignette about Taewon Jang's, the photographer, captivating series and how it came about.
Although each is dynamic in its own right, my favorite is the eleventh image.
What were your favorite reads of the week? Comment below or tweet me @MNetAbbey.