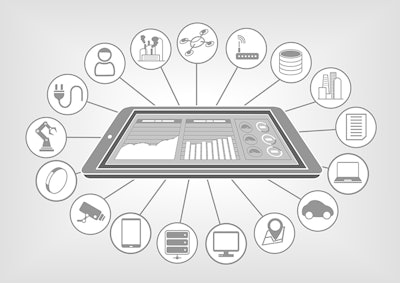 Manufacturing has entered the digital age and the Internet of Things (IoT) is transforming the way manufacturers not only view the way they create and service products, but also how it can help boost quality, efficiency and productivity in their manufacturing operations.
Today manufactured products from coffee makers and home thermostats to large, complex, industrial machines are becoming smart and connected providing real time communication and visibility that impacts the way consumers use them and the way manufacturers design, operate and service them. Through connected products and connected operations, the IoT is creating significant opportunities for manufacturers to enhance value — for the consumers of their products and the overall efficiency and productivity of their business.
"Over the next five years, IDC expects more than 30 billion "things" to be connected, and manufacturers will be largely responsible for producing them," says IDC Manufacturing Insights Research Manager Heather Ashton in a recent video. "The potential is enormous, and the time is now for determining what role your company will play in this developing landscape."
ALSO READ: Connect More Employees and Provide More Data
According to Ashton and recent IDC research, the top five most common IoT drivers for discrete manufacturers are lower operational costs; customer acquisition and/or retention; better customer service and support; business process efficiency/operations optimization; and control and competitive differentiation.
"Manufacturers have the opportunity to adapt processes with IoT to lower costs, optimize operations, reduce resource consumption, improve productivity, enhance customer service, and manage the supply chain," says Ashton.
While some manufacturers have been slow to embrace an IoT strategy, it is clear from IDC's list of the most common drivers that most manufacturers understand its importance and do see the long-term benefits and potential for competitive advantage. And for the majority of manufacturers, focusing on building an IoT strategy has become a priority, whether they are already developing smart, connected products, are in the process of designing completely new connected products or adapting existing ones for connectivity.
However Ashton says, "of the 66 percent discrete manufacturers that are actively pursuing IoT, nearly two-thirds of them have not even begun a pilot." One of the challenges Ashton cites is building the business case.
As the implications of an IoT strategy become evident and the business case for IoT is being developed, manufacturers are challenged with answering questions that affect almost every function of their organization. IoT disrupts how manufacturers operate and create value and many decisions need to be made around product capabilities and functions, data storage and security and overall business strategy and organization structure. Manufacturers must also look at how it will affect customer relationships. This makes looking at industry use cases beneficial to the process.
IDC has developed a roadmap to help manufacturers navigate their IoT strategy and emphasizes that while looking at IoT use cases, manufacturers ask the following questions:
Data — how can connected product and connected operations data transform business processes?
Customer priority — what is the value proposition of the use case to the business or customer?
Risk and complexity — what are the inherent risks associated with this use case's success?
Cost — what are the associated costs with this use case?
Some of the industry use case examples Ashton cites include commercial aerospace, whereby engine manufacturers can enable connected product usage analysis to uncover fuel consumption and engine insights, and high tech equipment, whereby manufacturers can provide better customer service and support through connected diagnostics to reduce system downtime.
In addition to looking at IoT use cases to identify ways to create competitive differentiation for their products in the marketplace, manufacturers across industries are also looking at use cases for how the IoT can help them find creative ways to use connected products for differentiation within their manufacturing processes and services.
Manufacturers who embrace an IoT vision within their operations have the opportunity to achieve new levels of real-time visibility, interoperability and traceability by connecting all systems, assets and people in ways that have never been possible before with traditional manufacturing systems. For example, with an IoT platform, manufacturers can combine real-time data feeds from various assets (machines, robots, tools, gauges, sensors, etc.) with transactional data from their enterprise systems such as PLM, ERP, Quality and SCM, as well as direct feedback from people into actionable information for real-time monitoring, control and optimization. With IoT enabling smart, connected operations, manufacturers can open up new opportunities to improve operational innovation and operational excellence.
For manufacturers, IoT dramatically impacts an organization's strategic direction. It changes the way products are designed, created, operated and serviced and impacts business processes and organizational structure. While this creates a disruption in the short-term, the IoT drivers outlined by IDC and the long-term value that it opens up to improve product quality and performance, operational efficiency and customer relationships makes an IoT vision and strategy a must for manufacturers looking to secure a sustainable competitive advantage in the marketplace.
Michelle Hopkins is Corporate Communications Program Director for PTC.
---
To read more manufacturing and technology news, sign up for our newsletter. You can also follow Manufacturing Business Technology on Twitter @MBTwebsite.