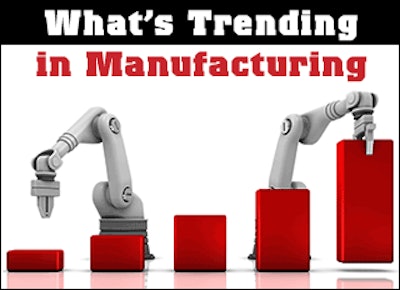 Here's a deeper look into the top trending stories in manufacturing today based on reader feedback. Auto recalls on hold during government shutdown; 3D food printing; and U.S. manufacturing in position to regain millions of jobs. Below these stories, check out links to other related news and features at Manufacturing Business Technology.
---
WASHINGTON (AP) -- Lives and property are at greater risk because auto recalls and investigations of safety defects have been put on hold during the partial government shutdown, safety advocates said.
The National Highway Traffic Safety Administration has furloughed employees who investigate safety complaints and order carmakers to recall vehicles. The public can still file safety complaints through the agency's website, but no one has been investigating them since the shutdown began over a week ago. Investigations previously underway have been halted. Continue reading...
Commentor PaulClieu had this to say about auto recalls:
"I would really doubt NHTSA makes a difference. In the case of real danger, a manufacturer would issue their own recall notice to avoid risks of being sued and damage to their reputation by hiding defects.
"Manufacturers certainly do this in other countries that don't have agencies like the NHTSA."
---
A company may have come up with a way to solve food shortage problems, using a 3D printer.
Commentor TNflash had this to say on food printing:
"This would work great for ice cream deserts! Retail stores like Dairy Queen and Baskin Robbins could have an on-line catalog of objects and flavors for their customers to choose for hundreds of special occasions. Health food stores could dial in your unique vitamin order or health food bar. Eventually as cost continue to come down and the chemistry gets better, we can be just like the Jetson's and tell the computer what we want to eat, when we want it and just let the computerized stove print and cook it."
Check out all the latest videos on Manufacturing Business Technology here.
---
U.S. manufacturing underwent a very successful July, based on the Institute for Supply Management's monthly factory index. The ISM index sprung to 55.4 in July – up from an average of 50.2 from April to June this year, and far exceeding industry expectations (any score over 50 denotes growth). Lower domestic energy prices, along with economic uncertainty in other key global manufacturing regions like China and Europe have played a pivotal role in influencing long term manufacturing growth for America.
Competitive Advantages
As Your Energy Blog wrote about back in June, U.S. manufacturers have established multiple competitive advantages in the global market. John F. Floyd of the Gadsden Times cites lower manufacturing costs in comparison to many notable countries as a strong indication of a manufacturing resurgence. "High wages, very restrictive labor contracts and more expensive energy costs for Europeans have all accounted for [manufacturing cost] disparity," Floyd notes. The end result are costs 7 percent lower in the U.S. compared to England, 18 percent lower costs than Germany, 17 percent lower than France, 19 percent lower than Italy, along with 13 percent lower than Japan, and 3 percent lower than Canada.
---
If you'd like to weigh-in about What's Trending In Manufacturing, leave a comment below or Email me at Jon.Minnick@advantagemedia.com.