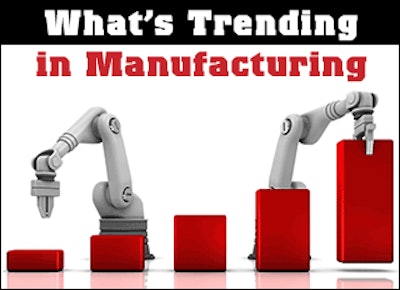 Here's a deeper look into the top trending stories in manufacturing today based on reader feedback: High-tech manufacturing hubs; the impact of new nutrition labels on manufacturers; and Samsung's new products announced. Below these stories, check out links to other related news and features at Manufacturing Business Technology.
---
IN CASE YOU MISSED IT: Chicago, Detroit Land Manufacturing Institutes
While America waits for President Obama to make a decision on the Keystone XL oil pipeline, manufacturing is getting a boost from the President. 
Chicago and the Detroit area stand to reap millions of dollars in federal grants and private sector investment as part of White House initiative to boost innovation in manufacturing and create jobs.
The creation of two manufacturing institutes are being seeded by $70 million each from the Department of Defense, plus more than $70 million each from non-government sources. The Detroit-area institute will focus on lightweight metals, while the Chicago hub will push innovation in digital manufacturing and design.
Meanwhile, in his Weekly Address, President Barack Obama is challenging Congress to help him create jobs and rebuild the nation's infrastructure.
---
New Nutrition Labels Could Cost Companies $2B
Those "Nutrition Facts" labels that are plastered on nearly every food package found in grocery stores are getting a new look.
Calories would be in larger, bolder type, and consumers for the first time would know whether foods have added sugars under label changes being proposed by the Obama administration. Serving sizes would be updated to make them more realistic. A serving of ice cream, for example, would double to a full cup, closer to what people actually eat.
The proposed overhaul comes as science has shifted. While fat was the focus two decades ago when the labels first were created, nutritionists are now more concerned with how many calories we eat. And serving sizes have long been misleading, with many single-serving packages listing multiple servings, so the calorie count is lower. Continue reading...
---
Samsung's New Products In 90 Seconds
Now that the Mobile World Congress has wrapped up in Barcelona, Spain, here's a look at Samsung's new products including the Galaxy S5 smartphone, the Gear 2 and the more innovative Gear Fit, which combines the functionality of the Gear with biometrics and a curved touchscreen.
---
---
If you'd like to weigh-in about What's Trending In Manufacturing, leave a comment below or Email me at Jon.Minnick@advantagemedia.com.