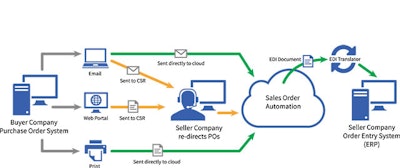 Leading manufacturers and distributors are constantly searching for new ways to optimize their operations. Faced with an ever-growing demand from customers to deliver more with less and in increasingly rapid ordering cycles, it has become vital to enhance the efficiency of business processes to remain competitive. Ultimately, future success in these industries now firmly hinges on the ability to embrace the unique requirements of each customer while processing and shipping orders rapidly and accurately. For this, automation is key.
Most companies already have reliable Enterprise Resource Planning (ERP) systems to help manage their internal processes, automating repetitive tasks such as inventory control, accounting and shipment. Yet one important area primed for optimization has not received it — the sales order process. Many manufacturers and distributors are familiar with Electronic Data Interchange (EDI) solutions and have already implemented them with some of their larger, more technical customers. But EDI is a huge financial and technical investment for both customer and company. Owing to this, EDI is not yet the norm in sales order processing. The majority of customer orders still require time-intensive and error-prone manual order entry. Clearly there is a large gap that can be filled with sales order automation.
Bridging the Automation Gap
The dream for many manufacturers and distributors is a process where every customer order arrives electronically in a standard format and is automatically translated into a sales order in their ERP system. The optimization advantages of this would, of course, be huge. Company service teams could focus on their customer care role rather than manually inputting purchase orders. Plus, it decreases the opportunity for human error. Unfortunately, up until now, this dream has simply not been the reality.
EDI offers an opportunity to automate the order process but requires considerable time, money and a high level of collaboration with customers. Once the solution is in place, the benefits are impressive, reducing cost per transaction, eliminating inaccurate manual order processing and creating shorter business cycles. But many customers have neither the technical resources nor the desire to help implement this in their business communications.
Ultimately, each customer has their own distinctive internal processes and way of doing business, be it through mail, email or fax. Customers who need to create purchase orders for their own internal business processes are understandably reluctant to enter the order a second time in a shopping cart or web form.
While manual sales order processing is still the norm for many companies, it is archaic and labor-intensive, slowing down order cycles and increasing the opportunity for costly errors. As EDI has demonstrated, automating the sales order process is the right move. But without burdening the customer, it is difficult to leverage the current investment.
What is needed is a means to bridge the gap between customer convenience and supplier needs — a sales order automation solution.
Leveraging an EDI Investment
Sales order automation solutions fill the awkward space between each customer's unique purchase order requirements and the increasing need for the automation of processes. Implementing this, error-prone manual touch is no longer needed, eliminating its detrimental effects on customer care. Customer service teams can focus on other duties rather than dividing their time between providing assistance and entering sales orders into a company's internal system. Ultimately, this solution allows suppliers to leverage their EDI investment without the need to inconvenience or change the way their non-EDI customers do business.
National Marker is one such company. With a hefty range of safety identification products, ranging from hazmat labels to traffic signs, they have a huge volume of orders to process daily from multiple locations. While some of their larger customers choose to use EDI, the majority continue to submit purchase orders via fax, email and phone. Previously, each non-EDI order required a customer service representative to manually enter data into their system. This involved considerable time better dedicated elsewhere and bottlenecks were the inevitable result, damaging customer satisfaction.
A sales order automation solution was the ideal answer to their problem. Regardless of the many varying formats submitted by the customer, it treated print, email and fax orders like standard EDI documents. The essential data was captured and translated from purchase orders with 100 percent accuracy before being transmitted to their ERP system as a sales order. This allowed their customers to continue to do business in the way they preferred, while allowing National Marker's customer service team to refocus their energy onto other tasks.
The combination of an EDI investment and a sales order automation solution can thus make the dream of automating processes a reality. Increasing demand can be met in a timely manner without changing the way customers do business. In fact, non-EDI customers will not even need to be informed of changes to the sales order process. Meanwhile, manufacturers and distributors can process and ship orders more quickly and with guaranteed accuracy. They can not only maintain their competitive edge but also handle a much higher volume of orders without the need for more staff.
Brent Halverson, President and CEO of ecmarket, creators of Conexiom.
---
To read more manufacturing and technology news, sign up for our newsletter. You can also follow Manufacturing Business Technology on Twitter @MBTwebsite.