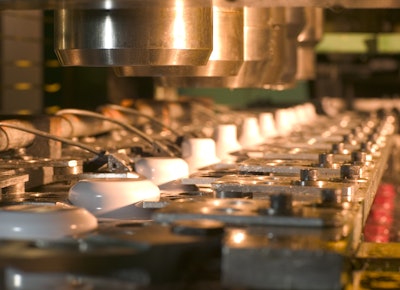 Manufacturers want to improve their manufacturing process, but they're not sure where to start. Plus, they want to minimize problems at start up and get the best return on their investment.
Typically, a company will design a process, put specs together and send out RFPs. Controls is just one item on the list. Actually, focusing on controls from the beginning can save time and add value. Integrating controls from day one ensures an automation process that gets a plant up and running faster. This best practice puts a plant in full production sooner than with the traditional approach.
Manufacturers can tap into control integration expertise by using a main automation contractor, often referred to as a MAC, who takes the lead by integrating all aspects of their project, resulting in a smoother and faster start-up. In fact, our customers have shared that for every dollar they invest in this model, they saved $10 on the backend because the plant started up properly the first time.
Three factors are key to achieving these results: engaging a lead integrator early, following a well-structured methodology and tapping into deep technical resources. Together, they create alignment and ensure the plant achieves its integration goals. How does this happen? It starts with identifying and engaging all stakeholders early in the process. Sounds simple, but it takes a MAC team that knows how to work side-by-side with owners, process engineers and operators, while taking a systemic approach and collaborating with equipment suppliers.
By following a proven project methodology, all elements will be considered and addressed. The process should have three main components:
Getting started: Scope, project kick-off, and functional and detail design
Building and testing: Acceptance planning, system development, procurement & assembly, panel quality control, factory acceptance testing, and shipment
Final acceptance: Integration, installation, and training
The best methodology will fall flat without people who understand how to apply technologies to manufacturing challenges. By accessing a MAC with deep technical resources, you ensure project success. At Concept Systems Inc., we focus on hiring the best and brightest talent, and then we invest in their training. Their collective brainpower allows us to ask tough questions, so we identify and address issues early in the process. Our engineers can also select and collaborate with vendor partners who can best meet the specific requirements of a particular plant.
Who doesn't like sweet potato fries? When consumer demand soared, a food manufacturer wanted to expand its plant in the southern United States. The goal: fully integrate production from the receiving area up to the frozen grading area.
With multiple OEMs providing equipment, the challenge was to design an open architecture system where everything had a common look and feel, and to communicate on a plant-wide basis. As the MAC, we worked with each OEM to define the hardware/software specifications, as well as the programming standards and communication interfaces. We also provided a plant-wide network architecture that allowed PLC-PLC communication, as well as supervisory monitoring/reporting.
A MAC can also assist with a variety of applications. It took us some creative thinking to figure out a system that could monitor a conveyor line with a wide variety of packaged sweet potato fries. We considered package size and label presence, and made sure flaps were properly closed. We provided a vision/laser scanning solution to verify the presence of the label and its correct position, as well as to generate a three-dimensional model of the package, verifying its size and closed flaps. Downstream the package size information diverts the packages to the correct palletizing line. While packaging verification systems exist on the market today, none can touch the 99.9 percent reliability that our system provides.
The client was so satisfied that we were invited to serve as the MAC for the expansion of a processing plant in the Northwest.
In summary, these MAC best practices ensure success:
Engage early, so all perspectives and requirements are integrated into the design from the very beginning, including automation and networking standards, communication protocols and factors unique to the plant.
Ask plant personnel about their daily work to ensure the system works in real time. They can help with such items as how screens are laid out.
Find the sweet spot for control engineers to collaborate with customers' in-house process engineers. Process engineers typically line up the sequence of operations, but often don't ask the "what if" questions that pinpoint variations and unanticipated activities on the line.
Act as the project's control arm to oversee everything from design, OEM specs and supervision, and implementation
Vet process design and control system operation before startup
Perform extensive acceptance testing and training with plant personnel in advance of start up and commissioning. This minimizes any unanticipated difficulties, because people are already familiar with equipment and have used the control system in a simulated environment.
At Concept Systems, we believe in the power of continually learning and growing. We tweak our process based on experience with different projects. Our engineers have a chance to work on a variety of projects, across many industries, which brings fresh perspectives to projects. We know how important continual improvement is to our clients' operations, because it is essential to our success as well.
Integrating controls from project initiation adds value to your project by tapping into the creativity a MAC brings to design, its expertise at managing large complex projects and its understanding of the various options available. You not only reduce your risks, but you also receive control systems that maximize your plant's productivity.
With everything in place before commissioning, an accelerated start-up is possible. That's how a MAC leads a plant to full production as soon as possible. Of course, that saves valuable time and money during the process. It also means the plant is operational faster, so more product is being manufactured sooner, which increases the ROI.
Ed Diehl is president and co-founder of Concept Systems, Inc., which is a certified member of the Control System Integrators Association (CSIA). 
---
To read more manufacturing and technology news, sign up for our newsletter. You can also follow Manufacturing Business Technology on Twitter @MBTwebsite.