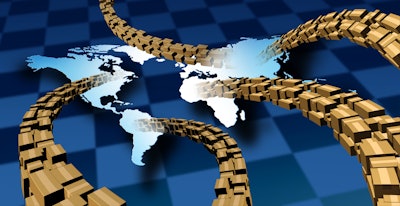 Remember the 1980s? If you don't, cell phones were the size of bricks and floppy disks held a paltry 720KB of data — not enough to even hold the latest Taylor Swift song. Looking back, things look so antiquated compared to today. That's why I cringe when I hear that members of the logistics and supply chain community are still using legacy transportation management software (TMS) solutions. We've come so far; so why put yourself in the "Danger Zone" a la Kenny Loggins and risk falling behind competitors by using outdated tools and strategies? Here is why you should consider kicking your legacy TMS to the curb.
As companies grow and expand their geographic footprint by procuring and selling goods around the globe, supply chains naturally become larger and more complex. This growth requires additional processes to ensure that information flow is seamless and simultaneous. As the Internet has made our world "smaller" since the 1980's, our supply chains have gotten larger and more complex. The challenge now is keeping up with the rapid pace of change and succeeding in today's ultra-competitive, data-driven marketplace while effectively optimizing and automating key transportation decisions. Enterprises need to optimize their business processes and analyze and glean intelligence from their data by working smarter with new technologies that respond to changing transportation needs. Most legacy TMS solutions just can't meet this challenge.
TMS — Yesterday and Today
Transportation processes in the past were much more localized. Consumer demand and expectations were different, with many people happy to call an 800 number to order goods and wait weeks for them to arrive at their doorstep. Companies were in the driver's seat when it came to providing goods to consumers and businesses. Today the reverse is true — consumers are pushing and expect companies to deliver goods in a much faster time frame. As a result, today's supply chain complexities require a true multimodal TMS platform to provide the capabilities to plan as well as execute in a manner that meets consumer demand within an ever-changing environment. It is absolutely critical that rail, sea, road, air and parcel modes are well orchestrated — a complexity that is not going away anytime soon.
Companies need to look for a multimodal transportation management solution to drive their organizations away from being reactive to day-to-day challenges and toward a more proactive, exception-driven approach to execution that can achieve greater ROI and business value. Internal experts can then focus their time on working collaboratively with colleagues to build a more cohesive approach to supply chain execution and achieve real convergence.
Traditionally, the business case for TMS revolved around reducing costs while improving service levels. Today, TMS is part of an overall supply chain execution strategy that allows a company to stay on top of order fulfillment and access a broader set of carriers and freight matching. This increases the likelihood that organizations will achieve a variety of benefits, including increased visibility, collaboration and expanded partner integration. Bringing together companies that can provide an extension to the relationship is critical.
TMS is becoming a competitive differentiator in the marketplace. While it has typically been the case that transportation and logistics impact the cost side of the financial equation, if done properly, they can also drive topline growth and market share. TMS should be viewed as a strategic investment, not a tactical cost center.
The Benefits of Collaboration and End-to-End Visibility
Today collaboration among partners, suppliers and customer networks has increased as technological capabilities have expanded. The proliferation of Cloud solutions, mobile apps, tablets and other connected devices allow for multiple channels of connectivity, which help deliver the benefits of collaboration and visibility among partners.
Cloud-based TMS solutions, as a means to achieve supply chain convergence, are becoming the norm. Effective implementation of cloud-based TMS requires a detailed internal and external review to determine which departments, functions and partners typically work in silos. Not considering the business impacts on the other parts of the organization and its ecosystem leads to missed opportunities to achieve end-to-end optimization and visibility. By aligning different organizational functions — manufacturing, warehousing, and finance for example — with transportation and supply chain groups, it is much easier to establish a foundation of collaboration and data integration.
By connecting plans and strategies, organizations can operate as a single unit and gain significant benefits. In order for convergence to work, a company's systems and processes must be connected and integrated. Once organizations solve the internal convergence problem, they can then look to solve any external convergence challenges they have by collaborating and engaging with external partners. During this collaboration, it's important to first understand the problem, collaborate to assess what the best solution is and then act to address it. Afterwards, organizations need to be able to analyze the problem in order to minimize the situation in the future and, once complete, advise everyone regarding the changes or improvements that need to be made.
What to Consider as You Move Your TMS into the Future
As an organization's geographic needs increase, it requires an expanded footprint of carriers in those areas. So when going regional and global, an organization needs to assess its carrier's ability to deliver and its ability to be the most efficient and effective. Consider the integration of value-added capabilities such as yard management, cargo freight stations, break bulk and cross-docking into a TMS. This is where convergence takes place. Users need to be able to move goods seamlessly across borders; having an integrated TMS solution is a must-have. So, it's time to get your TMS out of the 80's and into the future.
Bob Farrell is the CEO of Kewill.
---
To read more manufacturing and technology news, sign up for our newsletter. You can also follow Manufacturing Business Technology on Twitter @MBTwebsite.