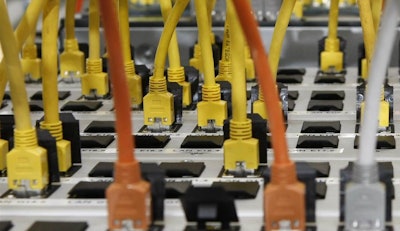 Many system integrators and OEMs — even the most experienced — lack the knowledge required to engineer a holistic Ethernet architecture on the plant floor.
The reason is simple: Most system integrators haven't needed deep industrial Ethernet expertise. Despite the fact that unmodified Ethernet technology is the standard for the networking world, it has only recently been pervasive on the plant floor. Unmodified Ethernet is not new to the plant floor for information transfer but now is critical to control, motion, energy, and even safety applications.
Manufacturers and industrial organizations that aren't already standardizing on Ethernet are at least considering the switch from isolated legacy systems. As a result, integrators and OEMs are seeing industrial Ethernet as the way of the future, fueled by the Internet of Things (IoT) and the benefits of interconnectivity between operation and information technology.
ALSO READ: Service-ology: How the Convergence of Service and Tech is Creating a New Breed of Consumer
System integrators and OEMs need to know more than how to compose systems with a handful of Ethernet connections. They also need to be comfortable deploying systems with hundreds and thousands of connections, while applying proper segmentation, IP addressing schemes, security and performance factors for the logical and physical network design.
The story of one company that made the switch offers a cautionary tale for system integrators — as well as their customers. Just months after investing in an Ethernet topology, managers at a Missouri cement plant were contemplating pulling it out and reverting to their proprietary infrastructure, which was still in place.
Why? Because the new system was triggering a significant number of outages. During production, HMIs would suddenly become unresponsive. The new system also failed to deliver consistent real-time visibility into operational data.
Turns out that the Ethernet network switches and routers had been unboxed, plugged in and powered on. No customized configurations had been implemented to meet the plant's specific environment and operations.
Another major problem: No redundancies had been built into the network, and there were multiple, single points of failure.
As someone who specializes in bridging the gap between traditional information technology and the plant floor, I've seen many similar scenarios in recent years.
Manufacturers want to invest in plant-floor Ethernet networks to gain the business benefits of holistic interconnectivity, from the shop floor to the C-suite. So they turn to the systems experts they've relied on in the past. But if the integrators don't have the knowledge and experience necessary to architect unmodified Ethernet technology, the outcome could be problematic.
Consider this: One of the major benefits of adopting a converged plant-wide Ethernet/IP (CPwE) architecture and connecting the "unconnected" is the wealth of operational data that can be collected from all the sensors, drives, pumps and motors on the factory floor.
That's not possible unless the Ethernet network is appropriately scaled and architected to smoothly handle all that information, while meeting a plant's unique production demands. The complexity of plant networks is mushrooming. Before a company starts adding tens of thousands or hundreds of thousands devices to their Ethernet network, they need a plan.
Without one, the results can be disastrous. An example: A large global CPG company found itself running out of IP addresses on the plant floor because they did not plan accordingly. Besides the lack of an overall architected plan, they failed to work with their systems integrator and OEMs on standards (equipment, access, security and IP addresses).
In the case of the Missouri cement plant, a team from The Applied Group was called in to correct the problems rather than rip out the system. Our discovery process revealed the need to shore up the architecture to meet the capacity required by the production operation. We reconfigured the Ethernet technology that had been implemented and closed gaps in the network to make the system fault tolerant. Switches that had been selected inappropriately also were replaced.
This application demonstrates the need for more system integrators and OEMs to develop the specialized knowledge and experience necessary to implement CPwE industrial networks in their customers' plants. That knowledge is far more complex than connecting "things" on the plant floor, and connecting the factory network to the enterprise.
The movement toward worker mobility is gaining momentum, along with the rapid expansion of its enabling Ethernet technology — wireless. To implement wireless on plant floors, integrators and OEMs need to build in the right resiliency and security into the system.
Security overall is a huge concern for manufacturers. Protecting production and other sensitive assets requires defensive measures at multiple layers, from physical security to network security to data security. Nearly all OEMs and systems integrators need access to the plant floor equipment to service and support and maintain service level agreements. The usual implementations are a free-for-all, without clear direction. We have seen customers allow OEMs and systems integrators dial-in access. Often, that access allows connectivity to most — if not all — of the plant-floor systems. That's a huge security breach. These access practices typically fall completely outside of the IT realm, and no one is auditing or tracking usage.
Combine Credentials, Experience
System integrators can take different approaches to acquiring the CPwE industrial network knowledge they need. The Applied Group, for example, has been rooted in industrial automation system integration for 33 years. But in the last decade, we have integrated industrial-automation teams with IT specialists to offer the combined expertise necessary to deploy connected-factory architectures.
Automation system integrators and OEMs can essentially do the same by partnering with companies who provide industrial IT services. Working shoulder-shoulder with these partners, system integrators can gain the expertise they need.
Still, that process could require years. A quicker and more consistent route could begin with formal training and then gain the field experience necessary to develop real expertise.
Industrial IP Advantage is taking a big lead in educating system integrators about the intricacies of deploying CPwE industrial networks. It provides system integrators with the foundational knowledge they need for technical competence in network design.
Of course, just like doctors, lawyers and accountants, system integrators will need field experience to hone the lessons they've learned in the classroom.
Collaboration is Key
Similarly, manufacturing customers should consider both credentials and experience when evaluating whether to partner with a system integrator on an industrial Ethernet project.
Start with credentials, both academic and training. What credentials or operational technologies does the integrator carry in the automation space? That same question has to be asked about IT credentials.
Then the questions revolve around real-world experience. Ask the integrator for actual case studies – and for references. Consult with past customers to assess the integrator's technical skills, as well as their collaborative capabilities.
The reason: Implementing CPwE unmodified Networks on the plant floor will involve many stakeholders. The first thing we do is we get all those people to the table, including both the enterprise IT and the OT folks — who may have had adversarial relationships in the past.
System integrators who can help bridge long-standing cultural divides — as well as technology gaps — will win kudos and referrals.
Manufacturing customers also have a critical role to play in ensuring a successful migration. Systems integrators and OEMs could have all the depth and domain expertise they need, only to be challenged by either the customer's lack of standardization or unwillingness to define standards for their plant's technology infrastructure. Also, manufacturers must enforce those standards, and hold integrators — and OEMs — accountable for adhering to them.
Dino Busalachi is Director of Industry Solutions at The Applied Group and writes on behalf of Industrial IP Advantage.
---
To read more manufacturing and technology news, sign up for our newsletter. You can also follow Manufacturing Business Technology on Twitter @MBTwebsite.