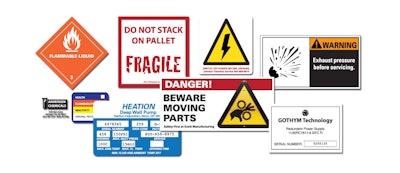 The most cost-efficient label solutions vary from product to product. But follow these six guidelines, in partnership with your label supplier, and you can be confident you'll get the best value for your label.
1. Select the right label printing method
For nearly any pressure-sensitive label, you have two choices for your printing method: flexographic label printing and digital label printing. Four main factors affect which one is the most cost-efficient for you:
The size of your order
The quantity of labels you'll need in the future and the regularity of your future orders
Whether or not you need variations from label to label
Your design requirements
Flexographic presses carry higher setup costs than digital presses but provide economies of scale because they use plates to create a set of consistent labels. Once a run is set up, flexographic presses print labels more quickly than digital presses. Digital presses require no setup costs but have a higher per-label cost. In small quantities, digital printing saves money, but in large quantities, flexographic is the better choice. There's no magic number for this cutoff, as it varies from label to label, so you'll need to work with your label printer to determine the best solution for your specific order. In some cases, you may need a small quantity of a label up front but will purchase that label in bulk over time, so flexographic printing can save money in the long run.
From a design standpoint, digital printing provides a more crisp finish, clearer colors and sharper type. But both digital and flexographic printing methods provide professional quality labels and complete design flexibility to create nearly any visual effect. If you're running a promotion where you need many label variations, digital printing (using variable data printing, or VDP) is the most cost-effective option. It allows you to cost-effectively change text or design elements on each label within one print run.
2. Use a static label design
If you sell a group of similar products, such as a food that comes in different flavors, you can get more bang for your buck with a static design that has interchangeable elements. The main components of your design (colors, fonts, patterns, spacing) can remain the same from label to label, with changes in elements like nutrition facts and flavor names. By condensing designs, you can reduce design time, eliminate setup plates and see cost efficiencies with larger runs of the same label.
3. Simplify label materials
Want to highlight a certain part of your label? Design customizations, such as foil stamping and label embossing, can sometimes help accomplish this without using premium materials. Instead of starting with a costly face stock material, you may be able to use a more common paper stock and add special effects to specific areas. A less costly face stock material can provide major savings on big orders.
4. Forecast your label needs
If you order 40,000 labels per month and you know you'll need the same label for the next three months, you can save money by condensing that order into one run of 120,000 labels. Why? Because every print run requires setup time and has setup costs. By condensing print runs, you reduce setup costs and can get a better price point. A good label partner should inform you when you can combine orders.
5. Request label inventory management
You can streamline logistics by partnering with a label supplier that provides label inventory management. This means your vendor holds labels for a set period of time, until you're ready for your labels to ship. You can request cost-efficient large runs while protecting your cash flow, freeing up space in your warehouse and ensuring you always have labels ready when you need them.
6. Consider a partnership
If you contract with a label supplier in a multi-year agreement, your supplier may be able to work with you to provide better pricing. The stability and quality you get by working with a dedicated partner ensures you get maximum value from your labels.
Marsha Frydrychowski has more than 15 years of experience working with consumer packaged goods companies in marketing, packaging and branding. She leads marketing efforts for Resource Label Group, a full-service label manufacturer with locations throughout the U.S. and in Canada.