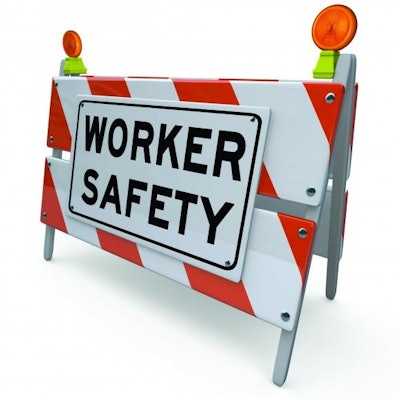 As we begin 2016, and get back to the task at hand, some things will change and some things will stay the same. Many who vow to exercise and eat right will keep that promise, while the rest of us try for a while and wait for next year to "recommit." One thing we know for sure, this year will have its ups, downs and share of surprises. As we know, when it comes to issues related to safety, surprises are not good.
At Grainger, we have more than 50 Safety Specialists who assist organizations with their safety programs. In fact, as a group, they worked with more than 2,000 organizations during 2015. Through these interactions, we developed a list of the top 10 safety issues we believe will be at the forefront of safety in 2016.
Hazard Communication / GHS: The Hazard Communication Standard was revised in 2012 and incorporated portions of the Globally Harmonized System of Classification and Labeling of Chemicals (GHS). Misunderstanding continues with respect to revised labeling, safety data sheets and training requirements, and deadlines. June 1, 2016 is the deadline when all employers that use, handle or store hazardous chemicals will need to be in compliance with all parts of the standard.

Arc Flash (Electrical Safety): In recent years, arc flash accidents have made headlines nationwide. These incidents have raised awareness of the dangers associated with working in close proximity to live electricity. While both Occupational Safety and Health Administration (OSHA) and the National Fire Protection Association (NFPA) have standards and guidelines in place to help organizations protect workers, there continues to be some confusion about how to apply some of the protective measures. Guidance for safe practices and training can be purchased through the NFPA, other safety organizations and electrical safety equipment suppliers.

Ergonomics: For several years, musculoskeletal disorders (MSDs) typically related to common manual material handling tasks have been the leading cause of disabling injuries and the leading injury related cost to businesses. Organizations struggle with developing procedures and processes to address these issues. Implementing an ergonomic process has been shown not only to be effective in reducing the risk of developing MSDs in the workplace, but also in saving businesses a good deal of money.

Fall Protection: Fatal falls continue to rise. According to Bureau of Labor Statistics (BLS), they increased by 10% in 2014, with the majority of the increase attributed to falls to lower levels. Established construction industry fall protection standards recognize physical barriers and personal fall protection arrest systems. Current general industry standards recognize the use of physical barriers only. Consider minimizing fall injuries by assessing your fall protection needs and implementing effective programs and procedures to address those needs.

Slips, Trips, and Falls: Workplace slips, trips and falls are one of the leading causes of injuries in the United States. Of the more than 1.1 million nonfatal occupational injuries and illnesses involving days away from work in 2014, more than 27% were caused by slips, trips and falls according to the BLS. Because of the severity of the injuries, workers compensation costs and premiums are significant. Organizations looking to address accidents related to slips, trips and falls should begin by doing a risk assessment of causational hazards and then implement preventative measures within their workplace.

Machine Guarding: Organizations tend to believe that their machinery and equipment is well-guarded, but data and experience show that guarding problems continue to be a common and ongoing source of risk. Some struggle with lack of understanding of the requirements, improper designs or installations, and fail to consider all risks, aging of equipment and required adjustments and maintenance controls. Organizations are reaching out for guidance on existing OSHA and consensus standards, and for assessments of their potential machine guarding needs.

Safety Data Sheet (SDS) Management: As indicated in the first safety issue listed, full compliance with the revised Hazard Communication Standard is required on or before June 1, 2016. One requirement is to have a complete and current Safety Data Sheet (SDS) library. Organizations must ensure that SDSs are current and readily accessible to their workers who handle, or are potentially exposed to, hazardous chemicals. Organizations should be checking in regularly with their chemical suppliers to ensure they're doing their due diligence in attempting to have a compliant set of SDSs by June 1 of this year. There are also a variety of "pay for" SDS management services available to help organizations with updating their libraries.

General Safety Training: A multitude of OSHA standards include explicit safety and health training requirements that organizations must fulfill. Some organizations may not have the resources to keep track of safety training needs, how often training must occur and how the training must be documented. When seeking guidance on complying with OSHA's training requirements, organizations often look to their safety equipment suppliers, insurance providers or resources on OSHA's website for support.

Product Standardization: Having too many styles of personal protective equipment (PPE) utilized by employees performing the same task is a problem also facing many organizations. This adds cost to the business in the form of cash spent on the item, labor and storage of PPE. Inventory management solutions allow for better product standardization, which leads to optimizing product selection. Inventory management solutions can be either managed by the organization or third party. When implemented correctly, this allows the right PPE to be at the right place at the right time for individuals to utilize.

Pedestrian Safety: In any workplace where forklifts or other industrial powered equipment and pedestrians cross paths there are potential safety risks. In all cases, it is the pedestrian who loses in the event of an impact and injuries are often severe. The answer to ensuring pedestrian safety lies within a three pronged approach involving safe operation practices for forklift operators, forklift safety awareness training for pedestrians, and the incorporation of appropriate aisle markings, mirrors, traffic control signs and other safety devices by organizations.
It's interesting to note that five of the 10 emerging safety issues we identified for 2016 align with OSHA's recently announced top 10 most cited violations: hazard communication, electrical safety, fall protection, machine guarding and safety data sheet management (part of hazard communication). With two key compliance dates that took effect during 2015, and a final compliance date in June of 2016, the revision to the Hazard Communication Standard that brings the U.S. into alignment with the Globally Harmonized System (GHS) was the most cited issue among our Specialists.
Here's to a safe, happy and healthy New Year! Let's keep those 2016 resolutions and stay safe so we can make more in 2017!