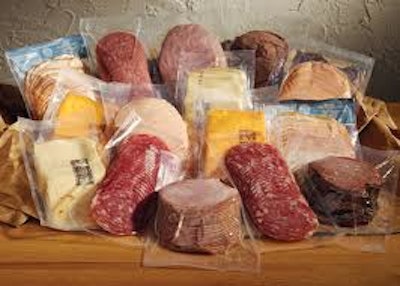 This article was originally published in Food Manufacturing's March/April 2015 print edition.
In the third part of this four-part series, we ask: which innovations in food packaging should food manufacturers be paying attention to, what benefits do they offer, and how are they best implemented?
Sean Brady, Marketing Director, Ready Meals / Case Ready, Sealed Air's Food Care Division, answered:
As processors and retailers face increased pressure to reduce food waste and expenses, modern packaging features serve as a key differentiator in ever-crowded market segments. Today's consumer seeks quality meals in formats that deliver flexibility and convenience to accommodate their busy lifestyles, and retailers in turn are looking to processors for solutions that meet these demands while enabling both sides to protect their bottom lines.
Vacuum skin packaging, particularly for fresh red meat and poultry, is emerging as a popular alternative. Tight vacuum seals prevent dehydration and oxygen exposure, and enable processors to deliver the freshest products possible to retailers and consumers. Retailers can leverage vacuum skin packaging's extended shelf life to reduce out-of-stock items and offer consumers a full and varied meat case. This format is leak-proof, delivering both safety and quality advantages. Additionally, vacuum skin packaging promotes greater meal planning flexibility. Since this format is freezer-ready and does not require repackaging to protect against freezer burn, consumers can stock up on meat and poultry items without worrying about spoilage. These benefits help processors, retailers and their brands win favor with customers, and increases the likelihood of repeat and higher-volume purchases.
Beyond flexibility, convenience and quality, vacuum skin packaging delivers superior merchandising and retail presentation enhancements. Processors are working with retailers to implement stand-up and 3D vertical display formats for added presentation appeal. Packages that feature clear vacuum seals in place of tray overwraps also deliver the transparency and full-product visibility shoppers seek.
Meat and poultry processors, in particular, benefit from vacuum skin packaging requiring fewer material resources than alternative methods during production, such as a reduction in film scrap. With less chance of vacuum-packaged products losing freshness or spoiling while in transit, the format enables a more efficient supply chain, namely in the inventory management and transportation logistics areas.
While vacuum skin packaging itself is not new to the market, a better understanding of how processors, retailers and consumers can capitalize on this innovative technology may be "the next big thing." The European marketplace has embraced and adopted vacuum skin packaging for many market segments, and there is great potential for the U.S. to replicate these successes through increased awareness and recognition of its benefits.